The Ultimate Guide to Design Systems
Product Design

/

Product Management

/
---
When it comes to designing and creating world-class digital products, the most powerful tool to have in your arsenal is a well-defined design system. The list of benefits is long and extensive, and we'll cover many of them in this article. If you're new to the concept of a design system the premise is simple — it is a one-stop source of truth, a resource for everything related to design within your organization. A design system is not simply a visual design library. Design systems house brand assets and guides, customer and user experience resources, and strategies for successfully aligning everything in your cache.
If you are analyzing the impact of creating and maintaining a design system through a pragmatic, business-minded lens, consider the following data:


How Design Systems Deliver Better Customer Experiences
The above may sound fantastic, but you may be wondering — how can a design system specifically deliver better user experiences for your customers? Let's take a look:

1. Consistency
A grave problem with design inconsistency is a proliferation of confusion and extra work. Imagine if every time your design team was tasked with creating UX or UI that they had to construct from scratch without any guidance. That would require a tremendous amount of work!

2. Efficiency
Instead of being at capacity with one project or product that requires substantial time and brainpower, multiple design streams can evolve concurrently.

3. Modernization
As your business evolves over time, it is essential to be able to quickly pivot and adapt to market changes in real-time; be able to effectively address the emerging customer expectations.

4. Branding
Apart from ensuring that UX and UI patterns and components are consistently and efficiently utilized, design systems can also address and stress the importance of properly integrating brand standards.

5. Functionality
Imagine being able to quickly ideate and express design ideas that perform almost like real coded environments with minimal effort. All without the need to require development in the process at the outset. It's possible with a design system.
In this ultimate guide to design systems, we cover what you need to know when it comes to creating and maintaining design systems. You will begin to realize these benefits and many more.

Start By Ensuring You Have The Right Team
This is first and foremost. When it comes to creating and maintaining your digital products, it is essential to have the right team in place with commensurate levels of experience.
Whether you already have a team in place or are just beginning the process of finding candidates, here are the most essential design roles your organization can have:

The Digital Design Director
This role is notably significant because you need someone who not only understands the nature of design, but who also has the authority to negotiate design decisions that are made in your organization. This role works closely with UX and UI designers.

The UX Designer
The UX designer may be working on any number of things such as performing a UX audit, empathy mapping, service blueprinting, journey mapping, moderated or unmoderated user testing, and more. This role requires a significant amount of mental space to process research and findings. It is best to have a UX designer working concurrently with a digital design director and UI designer.

The UI Designer
When it comes to the actual visual branded environment that your users and customers will be interacting with on a daily basis, the UI is what they will be engaging with and judging critically. Similarly to the UX designer, this process requires considerable time, thoughtfulness, and creative exploration. It is best when you can have this as a dedicated role.
Are there other roles you might need for effective problem solving through design? The answer depends on the size, scale, and nature of your business, and how often those aspects coincide with the digital product or products you may be creating or maintaining.

Define Your Design System Approach
Once you have the right team in place, it's time to define the approach for your design system. There are two general types of design systems that exist today. Those that are static (uncoded), and those that are coded.
Essentially speaking, all design systems benefit from being coded as they have the most robust usability & accessibility between all teams involved in digital product creation and maintenance. Coded design systems take a considerable amount of time and resources. If you are just beginning, evolving, and/or modernizing, establishing a static design system is a sound place to begin. Once your business or organization has established an effective static design system, you will be better positioned to elevate to the next echelon of a coded design system.
It's important to note that creating a static design system does not mean that developers can't benefit from them. As modern design tools have been created specifically with digital product design in mind, they can generate a base "spec sheet" for engineers to pull code from by using plug-ins. The most popular plug-in is Zeplin.io, which can take Sketch or Figma artboard outputs, and provide developer-friendly front-end HTML and CSS code for both web and mobile applications.


Zeplin.io Output
If you're not sure which direction to go, consider Design Ops, in which the goal is "to establish processes and measures that support scalable solutions for these challenges, so that designers can focus on designing and researching." Emerge offers DesignOps as a strategic design consultation service for our clients.

Define Your Design Strategy
Once you have a team in place and understand which design system approach fits best, defining your design strategy next will ensure that every design decision is made with purpose and intention. It achieves this by establishing accountability in the design process through the assembly of a decision framework.
This framework assists internal teams in making more informed decisions as opposed to arbitrary decisions. This is particularly helpful in the decision-making process; it can help internal teams process their opinions, drive consolidated feedback, set meeting protocols, and more. A design strategy, therefore, becomes a defining and guiding force for digital product success throughout the lifecycle of its creation and evolution.
Here are five principles that must be adhered to for ultimate accountability to truly flourish from digital product concept to execution:

1. Understand How Your Business Affects Design
For digital products to evolve through the creative process, there must be an understanding of how your particular business or organization is affected by your digital products, and how problems will be solved through design. At Emerge, we've found the most effective tool to capture this information and propel success is a service blueprint. A complete service blueprint view will help you highlight problematic hot spots and areas to improve.

2. Understand How Your Customer Affects Design
Every aspect of the design process needs to account for all of the ways your key customers interact with your product. This can be done through empathy mapping, which allows you to quickly gain insight into what the customers are going through, what needs they have, and pinpointing their ultimate goal. Additionally, journey mapping can be used when you want to understand the complete step-by-step journey a customer takes with your business as they work towards their ultimate goal.

3. Establish Design Rules of Engagement
Rules allow for a more consistent process and collective understanding. This is particularly true during the creative and design phases of digital product design. Be sure to:

4. Define Your Design System Approach
As explained above, defining a design system is beneficial because it is the toolkit that will define your product portfolio. It may be changed or evolve, but this often takes a lot of time, coordination, and money.

5. Create the Right Design Team
The benefits of ensuring the right team is in place are quickly realized when working on any digital product design. You'll be able to account for all of the design strategies listed above in a way that facilitates the best possible experience and outcomes for your customers.

Ensure Your Design System Is Successfully Adopted Across Your Organization
The final section of the ultimate design system guide covers an oft missed step when it comes to successful implementation. Ensuring that your design system is adopted across your entire organization is imperative. The rationale for doing this is simple. It creates greater accountability for design decisions that are made each and every day by all internal teams, regardless of role or function.

Define Your Design Strategy
As we've covered this above, here is a way to think about this in relative terms using a familiar anecdote:
Jim is a product manager working with design teams composed of both internal staff and external contractors across the country and globe. His goal is to keep digital product progress on track despite working with a variety of stakeholders across the organization. His biggest frustration is internal politics. Many departments act like sovereign nations that are either at odds or not talking with one another.
Sound familiar? It's not as uncommon as you may believe. Having a well defined design strategy can help create a common understanding and basis for shared language around design and associated needs and can help facilitate better communication across teams.

Educate Your Organization
Having a design system only benefits those who know of its existence. In this step, plan a roll-out phase, and make sure to provide incentives to make it more compelling to complete. Gamification is a great method for doing just that.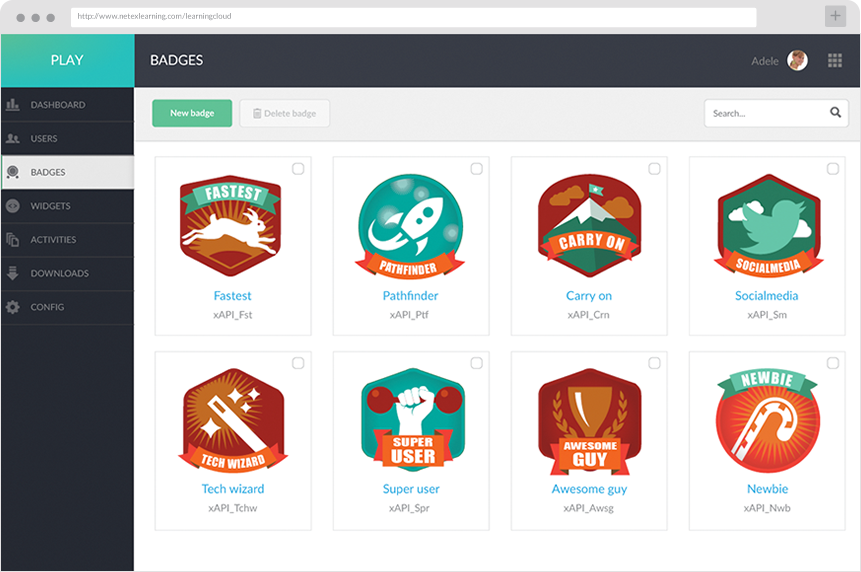 Example of Badging for Employee Onboarding. Source: Staffbase

Consult Your Entire Design Team
Your entire design team should be a collective and collaborative part of the process when it comes to defining and creating the design system. Ideas and solutions come from many places, not only from the top of your organization.

Solicit Feedback to Accommodate Other Audiences
Seek and solicit feedback from a diverse spectrum of stakeholders in your organization when creating and developing the design system. This can be performed with user testing, specifically moderated user testing, which can help reveal valuable insights and feedback.

Align Your Plan to Scale
It is imperative to have conscientious foresight of the long-term goals of your organization; for your company itself and the consequent effects pertaining to design systems as your company grows and scales. This can be achieved by establishing alignment, which has a long list of benefits but simply put — organizational alignment is key to business growth and success. Alignment is a major driver for implementation of an appropriately sized design system.

The Top Five Resources to Help You Get Started With Your Own Design System
Our ultimate guide to design systems wouldn't be complete without the following essential resources we've created to help you get started with your own design system. We've assembled a plethora of detailed information in the following articles. They will guide you on the right path if you're still uncertain about where to begin.

Creating a Design System Doesn't Have to Be Daunting
This ultimate design system guide has covered many facets when it comes to design systems, how to best envision them, and how to ensure they work successfully. That said, design systems do require thoughtful planning and execution. This can be a substantial challenge for many businesses and organizations. 
Often resources and time are limited when building the right team or supporting such an initiative through to fulfillment. In those circumstances, it can be extremely helpful to have a knowledgeable and experienced partner. At Emerge, we're passionate about setting up our clients for success. If you or your team need further consultation we're here to help.