Approach
Solving complex digital product challenges, together.
84% of digital products fail to meet expectations. Results come from aligning strategy, design, and technology to deliver impactful customer experiences. We help you build alignment and deliver indispensable digital products.

Why Alignment Matters
Over 84% of digital products fail to meet or exceed expectations
Great performance is about 1% vision and 99% alignment

Jim Collins and Jerry I. Porras, authors of Build to Last
How alignment can help you achieve digital product success
Define and strengthen your product strategy
Creating the clarity and focus necessary to drive outcomes
Gain a deeper understanding of your customers and their needs
Unlocking actionable insights to inform every stage of the product life cycle
Design and improve the product experience
Transforming people's interactions through human-centered design thinking
Make better decisions
Aligning priorities to improve customer acquisition, adoption, and retention
Get it built right
Developing products for scale, focusing on continuous delivery and improvement
Empower your teams
Enhancing capabilities, capacity, and processes to maximize collaboration
Our stance on alignment is so fundamental, we wrote an entire book on the topic.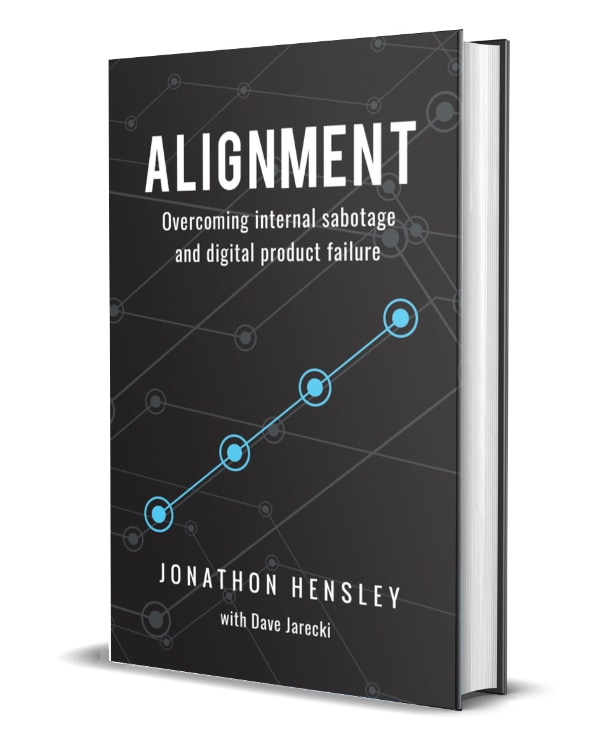 Alignment is core to how we work together, creating or refining your digital product vision so we can execute upon it. How we get there is through our Strategy, Design, and Technology service offering.
Strategy Services
From digital transformation to incremental improvement, we navigate the complexities of delivering great digital products. We offer a depth of knowledge and experience to identify, diagnose and solve your biggest challenges and unlock untapped opportunities.
Product Consulting
Ideation and Digital Reinvention
Market Research
Product Strategy
Investment Planning
Data Analysis
Design Services
Our approach to design is creating a system that can easily be utilized across your organization's internal and external design teams. Doing so reduces overall time to market, ensures team alignment, and creates a universal source of truth for digital product innovation org-wide.
What you get when you work with Emerge is a complete design system. Here's just a few things we include as part of that process:
Brand & Product Design Evolution
Customer Experience (CX)
Product UX Design
Service Design
Visual UI Design
Research & User Testing
Technology Services
To deliver a great digital experience across every screen you need to prioritize continuous delivery, integrate real user feedback, collect data and improve based upon new insights. We help our clients bridge the execution gap offering end-to-end technology planning, implementation and management to provide peace-of-mind, increased quality, and lower their risk.
Technology Planning & Evaluation
Solution Architecture
Web Development
Mobile App Development
Enterprise Custom Application Development
Systems Integration & API Development


Rated #1 UX agency
on Clutch for 2020, 2021.
21 reviews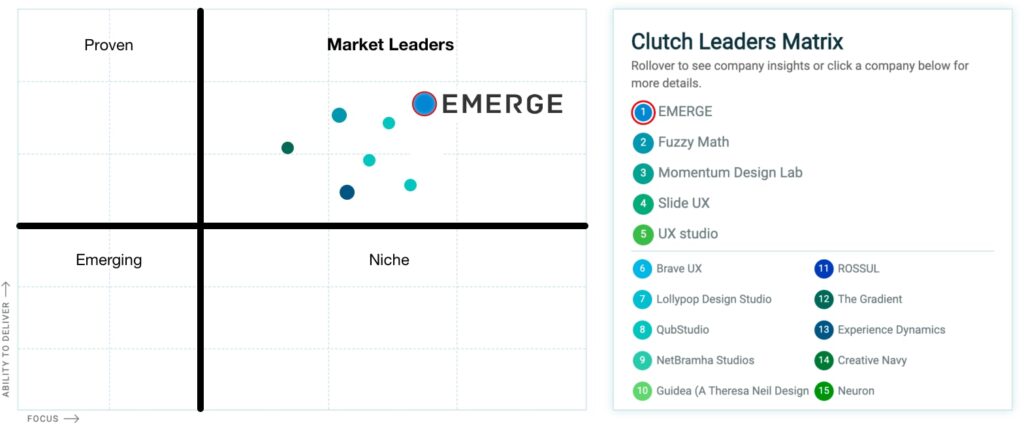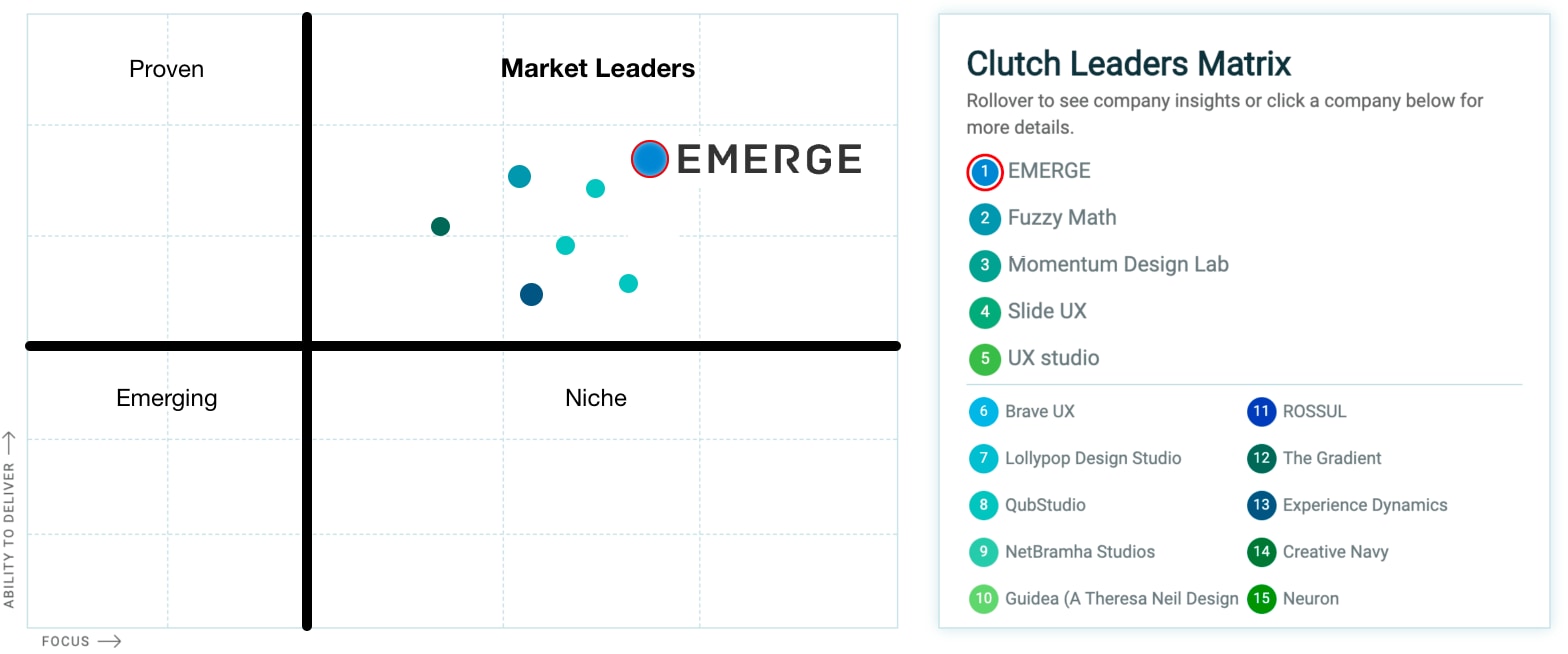 We Co-Create With You
At the heart of our methodology is people: your people and ours, merging our two unique areas of expertise. Working as one unified team towards your objectives.

This is made possible by our small, very senior, hybrid team that is ready to seriously engage with your team, with no mid-project rotation. We work closely together throughout each and every project – sharing our progress through working sessions to provide data-driven decisions. We constantly iterate and test, versus throwing designs over a wall.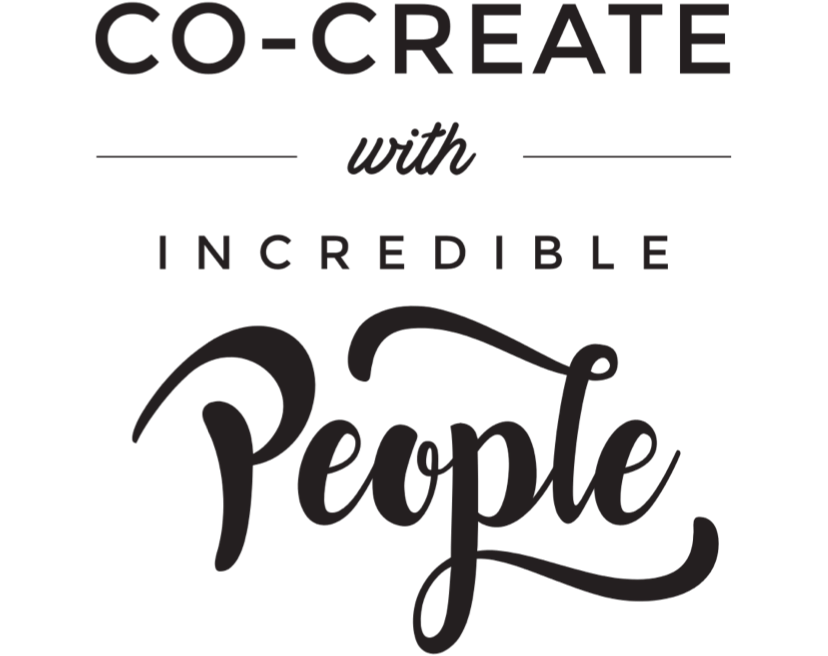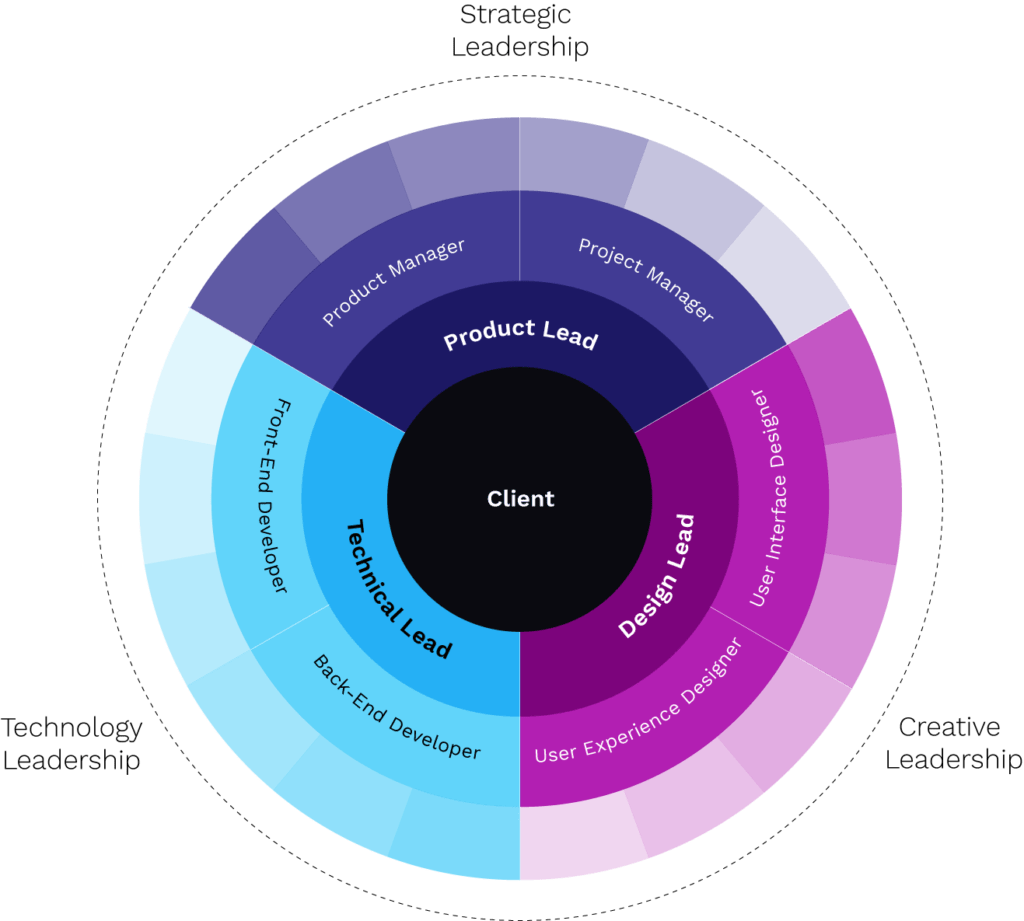 Integrated Capabilities
Our core product team model allows us to quickly hit the ground running and move things forward, working closely together with you across every phase of your project.
This approach will allow us to also easily scale the team up or down over time as necessary to support all your needs. We have found that this model keeps us goal focused, yet flexible, to adapt as you need throughout our entire working relationship.
This results in:
• No silos
• No outdated working models
• No processes for process sake
• No reinvention