A Product Leader's Guide to Improving Customer Experience
Product Leadership

/

Product Led Growth

/

Product Strategy

/
---
People today have an unprecedented number of choices when choosing products and services for their personal life and work. Consumer habits, preferences, and expectations are evolving. The organizations embracing a human-centered approach are outperforming the competition. Businesses can no longer rely on the position, price, features, or pure aesthetics of their product or service to differentiate themselves, it comes down to the experience. The end-to-end customer experience is a value people are purchasing, not just a solution to a need or problem.
Across every industry, product owners and teams across their organization are looking to improve the customer experience; to modernize and maintain relevance with their markets. There is no arguing the fact that focusing on the improvement of your customer's experience is just good business. According to Dimension Data 84% of organizations working to improve CX report an increase in revenue. Gartner reports customer experience (CX) leaders are 3x more likely to exceed their top business goals. And according to a survey conducted by Microsoft, 96% of customers say customer service is important in their choice of loyalty to a product and brand.
While it is nearly impossible to not hear someone talking about the importance of the customer experience (CX), many organizations don't know where to start, or even how to approach the work.
Let's solve that.

What is Customer Experience?
Prior to embarking on customer experience improvements, it is imperative to have a clear and succinct definition and understanding of what people mean when talking about CX. Forrester Research simplified the definition of customer experience down to a single core statement.
"How customers perceive their interactions with your company."
In other words, CX is about providing a useful, usable, and enjoyable experience to every customer, on every device, across every touchpoint—in a way that fulfills the expectations that you set and the promises that you've made.

While there is no end to the conversation on this topic, and folks who love dissecting it, digging deeper, adding, revising and then reassembling this definition, its core meaning remains true.

Designing an End-to-End Customer Experience
Now that we have a shared understanding of what CX is, we can examine the practice. Customer experience design is the discipline of designing products or services with a focus on the quality and thoughtfulness of the entire end-to-end user experience. Teams look at the sum of a person's experience engaging with a brand. The sum encompasses their perceptions, emotions, attitudes, actions, and the memories associated with each stage of the customer journey.
To help clarify a common point of confusion, people use customer experience and user experience interchangeably. In many cases, the term customer experience can take on a broader organizational view, while user experience is more narrowly focused on a specific product or service. This is an easy pitfall to navigate and circumvent. To ensure that you and your team are using the same terms and have a shared understanding. Allocate time to discuss and build an alignment continuity.

The Benefits of a Customer-Centric Approach
Every successful customer experience design initiative is about delivering value to the customer. It is about stepping into your customer's shoes; taking an outside-in customer-centric approach to deliver better products, services, and experiences. Successful customer experience design is also equally about achieving results and is grounded in support of the business strategy. This alignment enables companies to see significant benefits like:
Increased product or service adoption
Lower cost of ownership
Fewer customer complaints
Reduced attrition rate/churn rate
Increased customer lifetime value
Improved customer loyalty
Reduced operating costs
In some cases, the smallest things can be transformational in driving results. Let's look at a company called Rackspace. They are a managed cloud computing company based in a suburb outside of San Antonio, Texas. One of the remarkable experiences Rackspace has created is Fanatical Support. This concept has now become their brand promise and it permeates everything they do. One part of delivering on that promise is having a live human respond through their phone lines within three rings, 24/7. The dedicated Rackspace team is empowered to assist callers. We've all experienced the frustration of being placed on an eternal hold, being transferred from one call center to another when seeking help. Rackspace differentiates themselves in the marketplace by creating and operationalizing this seemingly small, yet distinguished service for their customers. They provide a one of a kind experience, delivering significant value.

How To Start Improving Your CX Today
To improve the customer experience, you need to identify the moments you can assist, augment, or amplify. Each interaction influences someone's attitude along their journey. People's attitudes drive their behavior, and ultimately the results both online and offline.

There are numerous approaches, frameworks, and tools to help you identify the moments in your customer journey and gather insights about your customers. There are also a few critical concepts that are often missing, or woefully incomplete that are invaluable when working to deliver better experiences. If you're just getting started, these are a great place to start.

Map the Current State through Journey Mapping
Most companies have never mapped their customer experience. Customer journey mapping can be a powerful way to identify each of the moments and the interactions a person has with your brand, product and/or service. It helps document institutional knowledge and illustrates how each function of the business can influence and look for opportunities that align with your business strategy.
This valuable step is important in also facilitating a step back to look at the problem from a holistic point of view. Often customer experience improvement initiatives are set into motion based upon an internal mandate or customer feedback. However, if we don't step back to look at the complete picture, you may discover you're only addressing the symptoms, and not the cause of the issue. If in doubt, map the current state and start with the first moment in their journey, to see how improving it could influence the rest of their experience.
Some common digital product customer experience moments and user flows to consider:
Discover (Organic and Paid channels)
Introduction
Education
Demo/Trial/Sign Up
First Time Use + Configuration
Onboarding + Customer Success
Second Time Use + Recurring Use
Account Management
Paywall
Product/Service (broken down by each individual task flow)
Self Service Customer Support
Facilitated Customer Support
Retention + Loyalty

Understand Your Customers At a Deeper Level
Another significant step is the collaborative process of Empathy Mapping. Empathy Mapping is used to visualize and articulate what an organization knows about a particular customer segment. It externalizes knowledge about a specific audience in order to create a shared understanding of their needs, what they are thinking, feeling, seeing, hearing, and doing.
It helps you move beyond simple customer profiling, demographics, and personas  to a much deeper contextual understanding. This insight allows you to engage customers in a much more meaningful way to both validate your knowledge, challenge assumptions, and unveil entirely new insights. Through Empathy Mapping,  a new lens is created to assess how your customer experience can be improved end-to-end. This perspective can also be a powerful tool in understanding your competition, and why customers may or may not choose your product or service.  
Another powerful method to gain a deeper understanding of your audience is through the strategic use of video content. By scrutinizing your audience's preferences, interests, and demographics, you can tailor video content that resonates deeply with their needs and aspirations. This can be achieved by employing an online video editor to create and refine your content, which ensures a personalized and engaging customer experience.

Get the Right Stakeholders Involved in Customer Experience
The key to any customer experience initiative is mapping out who needs to be involved in the process to develop alignment across the company and support collaboration between individuals and entire teams. Ultimately, the team is able to allocate resources to rolling out the proposed improvements.
Change isn't easy so having the right people involved, understanding their needs, priorities, concerns, and getting their support is crucial. Your stakeholders will also be central to helping manage potential risks, sharing their unique point(s) of view based upon their experience, and operationalizing the improvements within the business. When working across functions of an organization, it's important to recognize that each group has different measures of performance to meet, so aligning your customer experience initiative to the context of each function involved is essential.
One method of getting all stakeholders aligned and onboard is to make sure that your customer experience strategy is anchored to the businesses mission, values, and goals. Everyone across the company, at every level, and in every function is there to move that mission forward, embody those values, and collectively focus on achieving those goals. By connecting the dots, you help everyone see the importance of the work to be done.
When this step is overlooked it can also be a sign of either a bad strategy, or no strategy at all. This can be most easily seen when planning is mistaken for strategy. Remember plans are made up of tactics that define exactly what you're going to do, when you're going to execute on them, and what follows next. Strategy defines where you're going, the approach you'll take to get there, and the value you'll create in a succinct and tangible way. For instance, you want to identify the right customer experience opportunities, select where and when to compete, and address customers needs and challenges in unique, sustainable ways.

Focus Your Efforts on Top Priority CX Improvements
Once you have completed the above steps, you will need to start prioritizing where to focus your efforts and start exploring possible solutions. Since you will most likely identify many more opportunities than you have time or resources to accommodate, it is key to prioritize them. If you haven't launched a customer experience improvement initiative in the past, start with something small and measurable. Focus on building up your capabilities and experience. If the solution is to create an internal or customer-facing digital product or service, focus on your minimal viable product (MVP).
The goal is to ensure your investment develops and drives sustainable improvements. If you have multiple customer experience initiatives going on simultaneously, managing the priorities and interdependencies effectively is even more essential to your success. At its core, each priority needs to provide positive change (value) for both the customer and the business. In the venture capital space, across boardrooms, and senior leaders this is commonly referred to as the value exchange.
One tool that can help you do this is the Kano model. This model was developed by Dr. Noriaki Kano, an economist who wanted to answer a simple question: What level of investment does an organization need to make to delight its customers?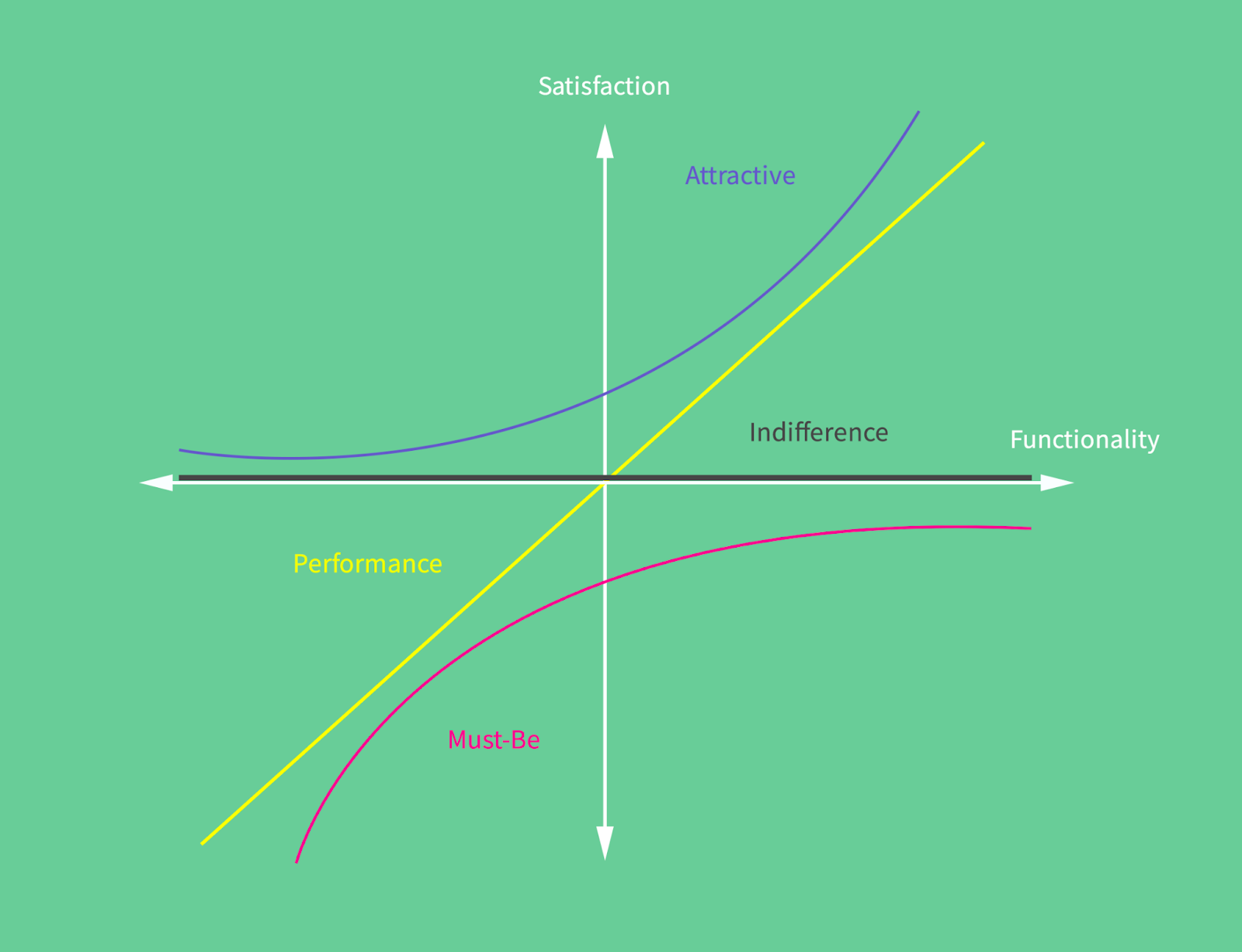 Through his work he discovered three dimensions, helping to visualize the customer's point of view in relation to the value of a product and its attributes.
Must-Be's or basic expectations are customer experience tablestakes. They encompass the attributes and features that make up the sum of a customer's basic expectations of the product. When these attributes and features are missing they are immediately felt. The investment in meeting these expectations can be resource-intensive to build and maintain but are the cost of doing business.
At the opposite end of the spectrum are 'Attractive' or customer experience delighters: attributes and features that delight the customer. These are attributes and features that address key moments where the experience exceeds the customer's expectations, distinguishing you from the competition, and reinforcing the value exchange. The investment into attractive delighters can be small and incremental or disruptive to the status quo.
When improving your CX it's important to distinguish between basic expectations in comparison to delighters that amplify the moment and create additive value. Not all moments are equal. Prioritizing investment to win the hearts and minds of your customers comes down to perspective.

Fall In Love with The Problem, Not A Solution
People love answers, absolutes to questions, and having a sense of certainty in a world of constant change. However, when we think about improving the customer experience there are no absolutes. It is imperative to continue innovating, stay relevant, and develop your competitive advantages. You cannot afford to fall into the trap of falling in love with a solution.
The intention of any customer experience initiative is to–in any given moment–provide people with the best possible experience. When you fall in love with the problem, developing a deep understanding of it, and its impact on your customer, you identify a path to creating value for them and your business.

Measure progress, iterative CX solutions and drive outcomes
As you move forward with your customer experience experiments and eventual improvements, it's important to have a clear method of measuring every direct and/or cumulative impact. Your metrics may be based on how someone engages with your brand, uses your product or service, or can be based on other attributes like technical performance such as load times of your website.
It's important as you define your metrics that you differentiate between lagging and leading indicators. Lagging indicators say things like, 'Y occurred, which means X must have happened.' They look backwards, not forward.
Leading indicators, on the other hand, serve as predictive measures, and point the way toward the first step that triggers the next thing you want. For example, 'If X-many users engage with the product at this level, Y will occur.'
For product teams focused on improving the customer experience, leading indicators point the way toward KPIs they can control in order to create accountability, drive progress, and build alignment. For example, they help uncover ways in which teams can change their focus, or examine key jobs or tasks that the product or solution must fulfill in order to achieve desired outcomes. This helps to provide necessary data that informs critical decision making.

Key Takeaways for Getting Started with Improving Your Customer Experience
Improving the customer experience is not an easy endeavor. You will make mistakes. That is ok. Starting with the right steps and sage knowledge will help you succeed.
Great customer experiences start with empathy and authentically listening to customers. You have to get out there and talk to them.
Start small, create experiments, learn quickly and then execute at scale.
Get your customers involved at the onset and often in the process whenever possible. Challenge your own assumptions about customers' situations, their needs and potential substitutions for your product or service.
Link customer engagement to 'real' business metrics for accurate monitoring purposes. Remember that your metrics are not 1-to-1 and that in most cases you will identify a moment that correlates to the outcome you want.