What to Look for in Website Accessibility: Audit of WhiteHouse.gov
---
Essential steps to understand how accessibility affects the way we consume digital content.
By now, the concept of accessibility is familiar to people. It can be identified by things such as wheelchair access ramps, braille on signs, and chirping crosswalk signals. While it can be easier to recognize the barriers of the physical world, the virtual world also proves limiting to people with disabilities.
The release of the Web Content Accessibility Guidelines (WCAG) 2.0 recommendations, however, has garnered the web a valuable tool, helping make it more inclusive.
Since the inception of the Americans with Disabilities Act of 1990, many gains have been made to ensure people with disabilities are provided equal protection for employment, access to programs and services, and improved access to public accommodations and commercial facilities. However, many people are unaware of the barriers that make it difficult, or impossible, for people with disabilities to use the internet.
A Deeper Look: History of the Movement
One of the major drivers of the accessibility movement is a 1998 amendment to Section 508 of the Rehabilitation Act. That amendment states that when Federal agencies develop, procure, maintain, or use electronic and information technology, they are required to make it equally accessible to Federal employees and members of the public that have disabilities. As a result, high profile websites like whitehouse.gov are required to provide equal access to all individuals that wish to use the site. With the level of resources at its disposal, one would expect the White House to meet the highest standards of web accessibility. Emerge Interactive performed an audit of whitehouse.gov to see how it fared against the WCAG 2.0 standard – the result was surprising.
What is Web Accessibility Comprised Of?
To provide some context before getting into the results, let's delve into what web accessibility is, who it is meant to help, and some statistics about the web's users. Web accessibility is essentially creating web experiences that people with disabilities can consume. This means that they can perceive, understand, navigate, interact with, and contribute to the web. This affects a wide variety of people, including those with visual, motor function, auditory, and cognitive impairments, those who suffer seizures, and older folks that may lose abilities as they age. According to 2012 Census Bureau figures, 56.7 million people in the US alone (18.7% of the population) had some type of disability, with 38.3 million being severely disabled. This means almost one in five Americans would have problems using a website that did not meet accessibility standards.
There are three levels of accessibility standards: A, AA and AAA. The single-A standard provides bare-minimum support for people with disabilities, while triple-A is the highest standard, providing full access and usability to all site users, regardless of ability.
Testing for accessibility means that four categories within each standard are tested against – perceivable, operable, understandable, and robust.
Perceivable means websites are designed with assistive technologies in mind.
Operable accounts for different physical interfaces used to engage with the web such as a keyboard, mouse or touchpad.
Understandable means building environments that support consistent, predictable outcomes.
Robust leads to creating a website that third-party technology, such as browsers and screen readers, are able to rely on.
We used our WCAG Checklist app and followed the AA standard. As detailed below, the final result for the whitehouse.gov audit was a 'B' grade.
How We Arrived at the Whitehouse.gov Audit Results
Upon the first inspection of the site, it received a 'C' grade. While most of the site was well built, there were a few areas that failed accessibility standards. An Inauguration Speech video, which was the only video present on the site, lacked subtitles or any additional text transcripts of the speech itself. Thus, there was no alternative to video-only content, an important issue for people with hearing disabilities. There were a handful of HTML issues, including 'attribute' and 'div' errors; a lack of subheaders in some instances where they were needed, and a lack of helpful page titles, all of which are important for people with visual impairments and those who rely on screen readers. There was also difficulty with the mobile version of the site, where the "hamburger menu" couldn't be opened, a problem for people with visual disabilities that use the 'TalkBack' feature and can't access the site navigation.
On second inspection, a new page was created ("Joint Address") that took the place of the Inauguration Speech page. The video issues from the first audit were addressed with the addition of a new video "The Joint Session of Congress," but the new page created a nightmare for people that use the tab button to get through the page. A long list of page sections, never-ending links in the Twitter feed, and the inability to tab through the Share options of content boxes made navigation difficult for those who aren't able to use a mouse.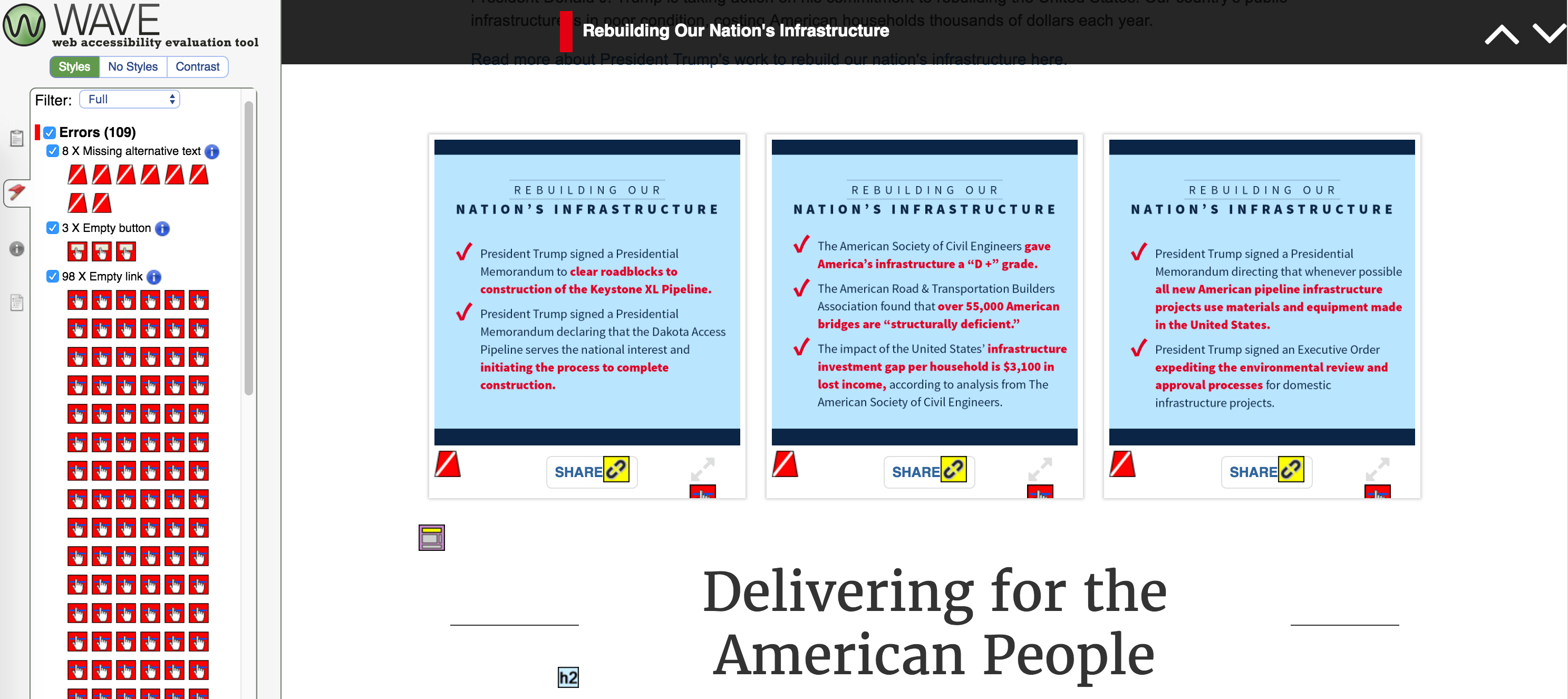 Snapshot of the WAVE tool within the Chrome browser., one of many we use to evaluate web accessibility.
Considering that this is such a prominent page of the website, it is surprising that not all instances of accessibility were considered. The number of issues that were addressed raised the site's grade from a "C" to a "B," but the new problem for tab-users was hard to overlook.
Our Recommendations
The recommended fixes to bring the whitehouse.gov site to full compliance with AA accessibility standards are pretty straight-forward:
ensure HTML tagging results in no errors
break up content with effective section headers
set up clear page titles
Truly, the biggest area of improvement lies within the mobile displaying of the site, with the need for making the menu fully usable with the 'TalkBack' feature.
Additional Tools and Resources
Though we only did an audit of the whitehouse.gov site out of curiosity, developing websites to be accessibility-compliant is one of the many features encompassed in the development process at Emerge. We have also created a free app to assist others with checking a website or application against the WCAG guidelines in order to find accessibility compliance success as well. You can also track the accessibility results in spreadsheets (here's how to import csv to google sheets). We believe accessibility isn't difficult to introduce to your website – it's something to be viewed as a result of implementing developed best practices with a thoughtful approach.