Emerge named Top UX Company in the Global 2021 Clutch Leaders Matrix
---
Emerge, one of the world's premier digital product agencies, has been named the top global leader in Clutch's latest ranking on UX design services. The Leaders Matrix in Clutch's 2021 independent evaluation compares user experience design capabilities across consulting firms, agencies and design companies. Emerge is known for its leading digital product strategy, UX design, application development and systems integration.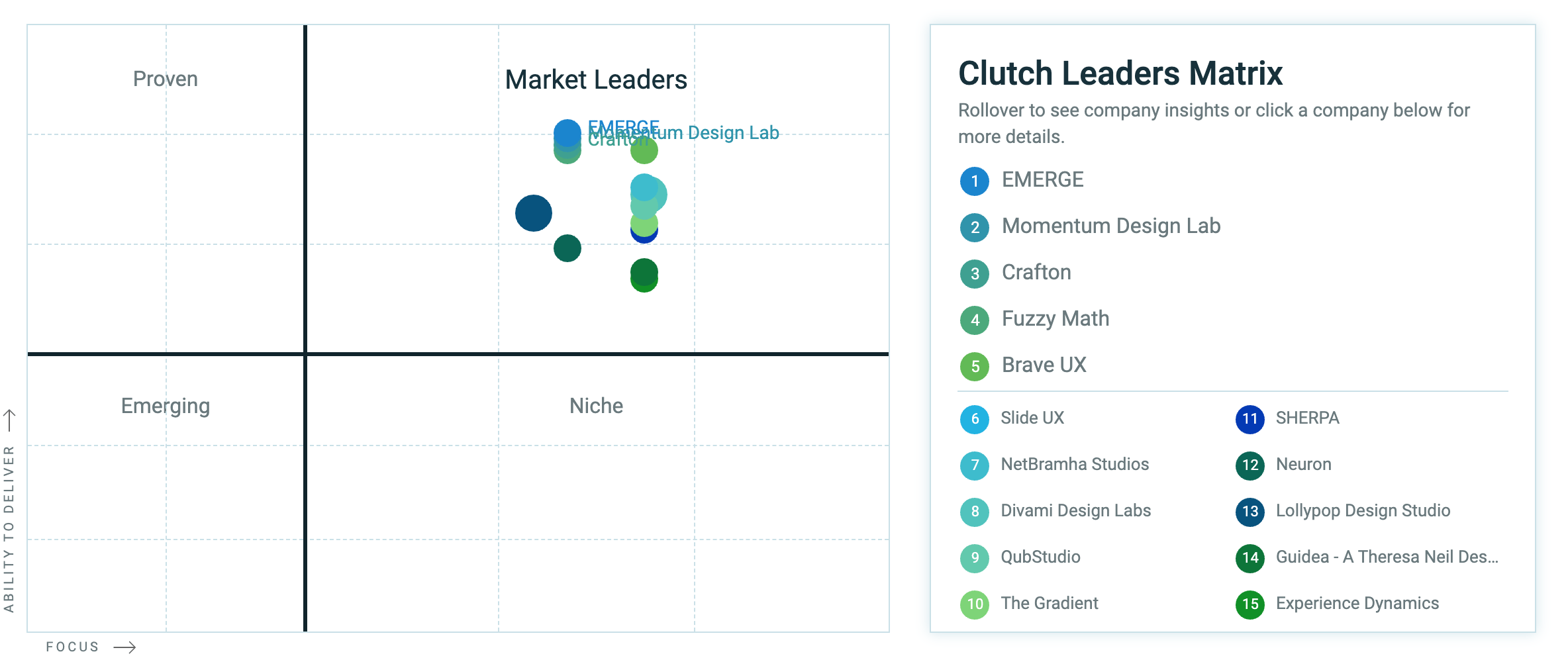 Additionally, references compared their positive experiences working with Emerge in clear contrast to the competition:
"An extension to my team." As compared to other agencies, Emerge is able to tightly integrate with client teams.
More agile than the "big guys," yet big enough to do complex projects. Emerge's specialized team is focused on designing and shipping digital products, not marketing, advertising, or social media.
A great cultural fit. Instead of a company having to adapt their agency's culture, Emerge is able to adapt to their client's culture. In this world of co-creation, this is a critical capability to get things done together.
"We are proud to be recognized by Clutch as the leader in digital product user experience services," said Jonathon Hensley, Emerge's CEO. "Over the past 23 years, we've partnered with many Fortune 500 organizations to launch over 100 stand-alone businesses and internal business units across multiple industries and global markets. We believe our success record, investment in innovation, and proven approach to end-to-end digital product creation make us the most capable firm in the digital product space."
Leaders are selected based on Clutch's research methodology, which uses quantitative and qualitative criteria to evaluate each company's technical certifications, experience, and market presence. Clutch analysts also interview each company's past clients to learn how they approach challenges, develop strategies, and execute customized campaigns and projects.