How Fractional CPOs Drive Digital Product Growth
Product Leadership

/

Product Operations

/
---
The pace of technological change continues to accelerate across every industry. To navigate this rapid transformation, experienced leadership is essential. Companies are seeking to bring in high-caliber product executives, such as chief product officers (CPOs) who deeply understand the paradox where veteran expertise, not just digital nativeness, is key to mastering change.

In working closely with product leaders, we've seen the rise of a flexible leadership model – the fractional Chief Product Officer (CPO). The fractional CPO is an experienced product strategist who serves as a part-time partner, providing ongoing guidance to shape product direction.
At Emerge, we collaborate with organizations and fractional CPOs to elevate product strategy and accelerate outcomes. In this article, we'll explore what a fractional CPO is, the benefits they provide, who can benefit most, and how to assess if this model fits your needs. Let's examine how on-demand strategic guidance can help organizations adapt and grow amidst an ever-changing business landscape.

What is a fractional CPO?
The fractional CPO is an experienced product leader who serves as a part-time, strategic-level resource. While not a full employee, a fractional CPO provides ongoing guidance and expertise to help companies craft product strategy, help to navigate market dynamics, spearhead digital transformation initiatives, and build cross-functional alignment between product and wider business goals.
Unlike hiring a full-time CPO, bringing on a fractional CPO provides ongoing strategic leadership and expertise on a part-time basis, usually 10-30 hours per week.
The fractional CPO operates as an external partner, not a full employee of the company. They are typically contracted for a minimum of 6 months up to 2+ years.
Some key responsibilities and focus areas of a fractional CPO include:
Providing high-level guidance on product strategy and vision
Conducting market analysis, competitive research, and customer insights
Developing product roadmaps and defining metrics for success
Advising on product portfolio management and prioritization
Leading cross-functional initiatives and improving product development processes
Identifying areas for innovation, new products, and expansion opportunities
Aligning teams around product and business goals
Establishing product operations, new methodologies, and processes
Balancing visionary leadership with hands-on execution experience across the product lifecycle
The fractional model allows companies to cost-effectively tap into CPO-level strategic thinking, without the need to hire a full-time resource. The fractional CPO adapts their time and availability to the organization's evolving needs.

When a fractional CPO can help
A fractional CPO can provide valuable leadership and expertise during key phases of company growth:
Early Stage Companies
Lack internal bandwidth to focus on product strategy
Need to align product-market fit with business model
Require mentorship establishing best practices
Must build high-velocity product development capabilities
Scaling Companies
Growing pains and increased complexity
Transitioning from founder-led to executives leading functions
Introducing more structure and strategic frameworks
Preparing processes and team for rapid expansion
Digital Transformations
Lacking competencies required for digital success
Conflicting priorities across legacy and digital products
Unclear how to re-align org, processes, and culture
Significant shifts in technology stack and capabilities
Market Expansions
Entering new geographies with limited insights
Expanding to new segments with different needs
Adapting existing products to new contexts
Avoiding fragmented approaches across markets

Differences between consultant, fractional CPO, full-time CPO
While consultants, fractional CPOs, and full-time CPOs all provide product strategy expertise, there are some key differences between these roles: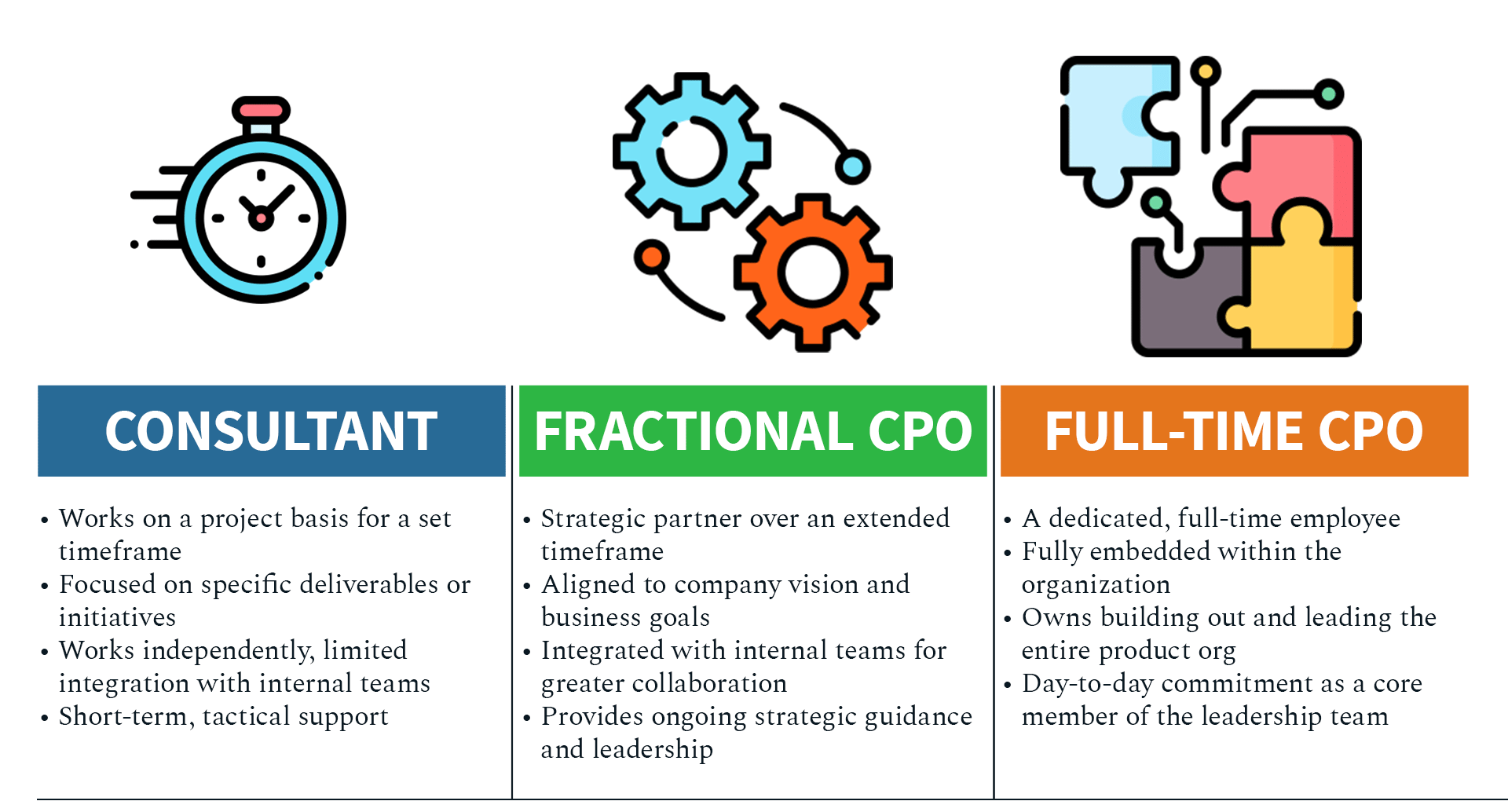 The choice between hiring a consultant, fractional CPO, or full-time CPO depends on factors like:
Digital product maturity
Company size
Product team expertise and experience level
Internal resources and bandwidth
Need for strategic guidance vs. hands-on execution
Desired timeframe for support
Budget
Risk management
The fractional CPO model strikes a balance – providing ongoing strategic leadership without a full-time resource investment.

Benefits of a fractional CPO
Hiring a fractional CPO offers several advantages, including:
Cost-Effective
Only pay for the time you need. Avoid hiring a full salary and benefits package.
Flexible model scales up or down based on needs.
Specialized Expertise
Gain experience from CPOs who have led strategy for leading brands.
Access niche capabilities not available in-house.
Objective Assessment
As an unbiased outsider, fractional CPOs identify gaps and opportunities.
Able to make recommendations without internal politics or preconceived notions.
Alignment with Company Goals
Cross-Functional Leadership
Fragmental CPOs collaborate with executives across departments.
Able to spearhead initiatives that cut across silos.
Accelerated Execution
High-level guidance and expertise helps teams move faster.
Fractional CPOs get up to speed quickly to make rapid impact.
Typical outcomes of a successful fractional CPO engagement include:
Increased product development efficiency
Faster time-to-market for new capabilities
Improved product-market fit
Higher product quality and fewer defects
Enhanced strategic focus and alignment
Strengthening the product culture within the organization

Drawbacks
The fractional model brings inherent constraints around availability, bandwidth, and scope. Additionally, integrating an external strategic partner into the fabric of the organization can present challenges.
Before moving forward with a fractional CPO, companies should carefully assess if the risks outweigh the advantages for their specific situation. It's important to go in with full transparency and aligned expectations around these key areas:
Lack of full-time commitment: With only a part-time schedule, fractional CPOs have less time to devote than a full-time executive. Availability may be more limited.


Ramp up time: It takes some ramp up period to get familiar with the company's specific products, teams, and processes before being fully effective.


Lack of dedicated team: Fractional CPOs typically work with and influence cross-functional teams but don't have their own dedicated staff.


Divided priorities: Fractional CPOs often split their time across multiple clients rather than focusing on one company.


Turnover risk: Shorter minimum contracts means greater chance of turnover compared to a full-time executive.


Cultural fit: As an external partner, integrating fully into the company culture can be a challenge.


Limited execution: Fractional CPOs focus more on strategy and leadership than hands-on delivery.
To mitigate drawbacks, it's key to set clear expectations upfront and have the fractional CPO onboard effectively to ensure alignment. Maintaining open communication and feedback loops is also important. But the fractional model may not be the right fit for every situation.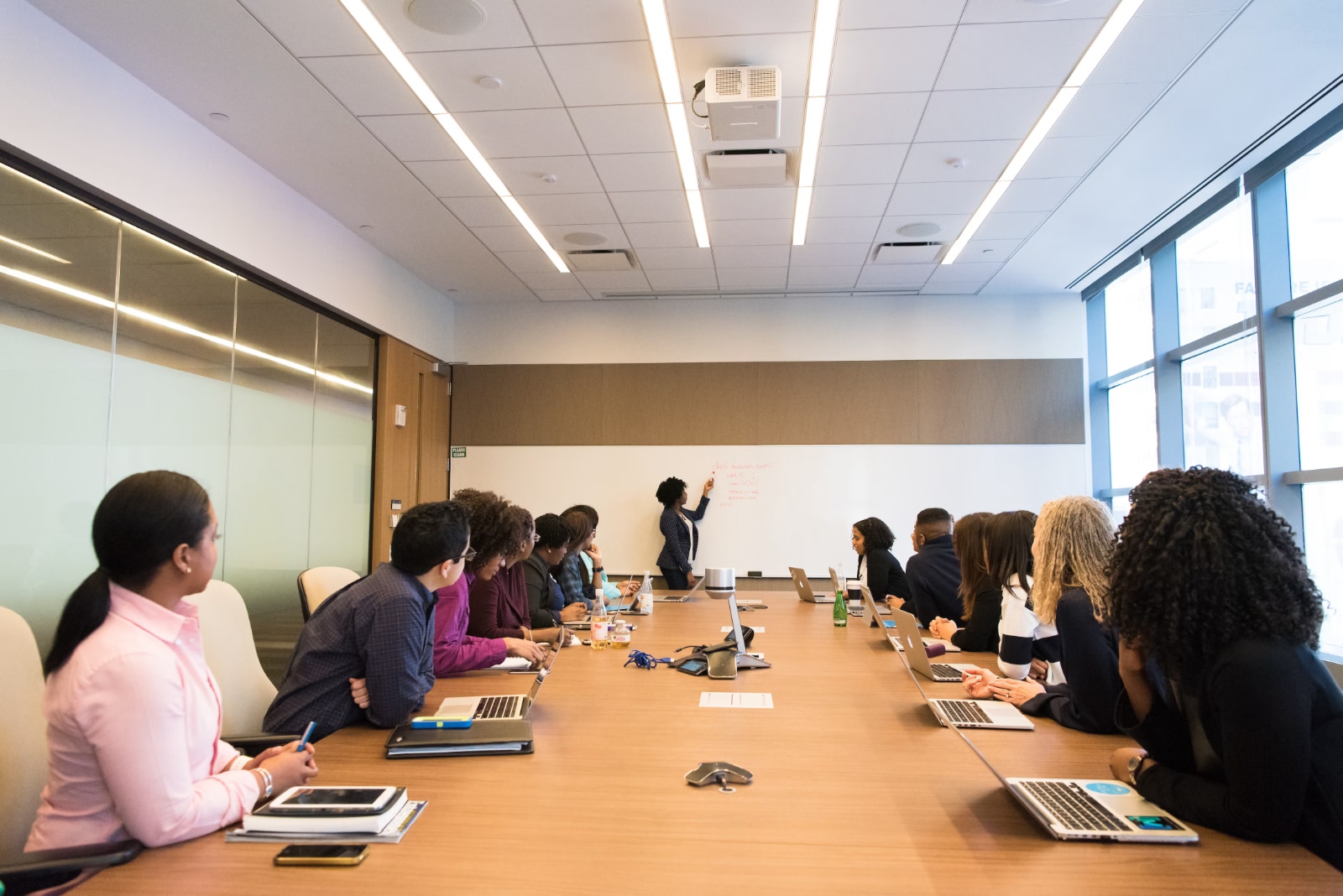 Bringing Discovery and Delivery Together
A key responsibility of the CPO is to foster alignment between discovery and delivery activities. Adopting dual-track agile development enables teams to conduct discovery and delivery in parallel.
The CPO facilitates this process by establishing guiding principles, ensuring insights inform priorities, promoting information sharing, monitoring the discovery / delivery balance, securing necessary resources and tools, and reinforcing the virtuous cycle.
How this responsibility manifests differs for fractional vs full-time CPOs:
Fractional CPO
Provides strategic guidance on balancing discovery and delivery
Leverages limited time on highest-impact facilitation activities
Relies more on other leaders to execute day-to-day enablement
Must quickly grasp existing dynamics between tracks
Full-Time CPO
Deeply involved in hands-on enablement and coordination
Dedicated resource for consistent facilitation of discovery/delivery
Builds capabilities and rituals from ground up
Has benefit of institutional knowledge and established culture
The fractional CPO brings an outside perspective while embedding enough to understand product team dynamics. The full-time CPO is fully integrated to shape processes and culture directly over time.
In both cases, the CPO plays an instrumental role in fostering productive collaboration between discovery and delivery functions. Their leadership enables the team to deliver maximum value based on continuous learning.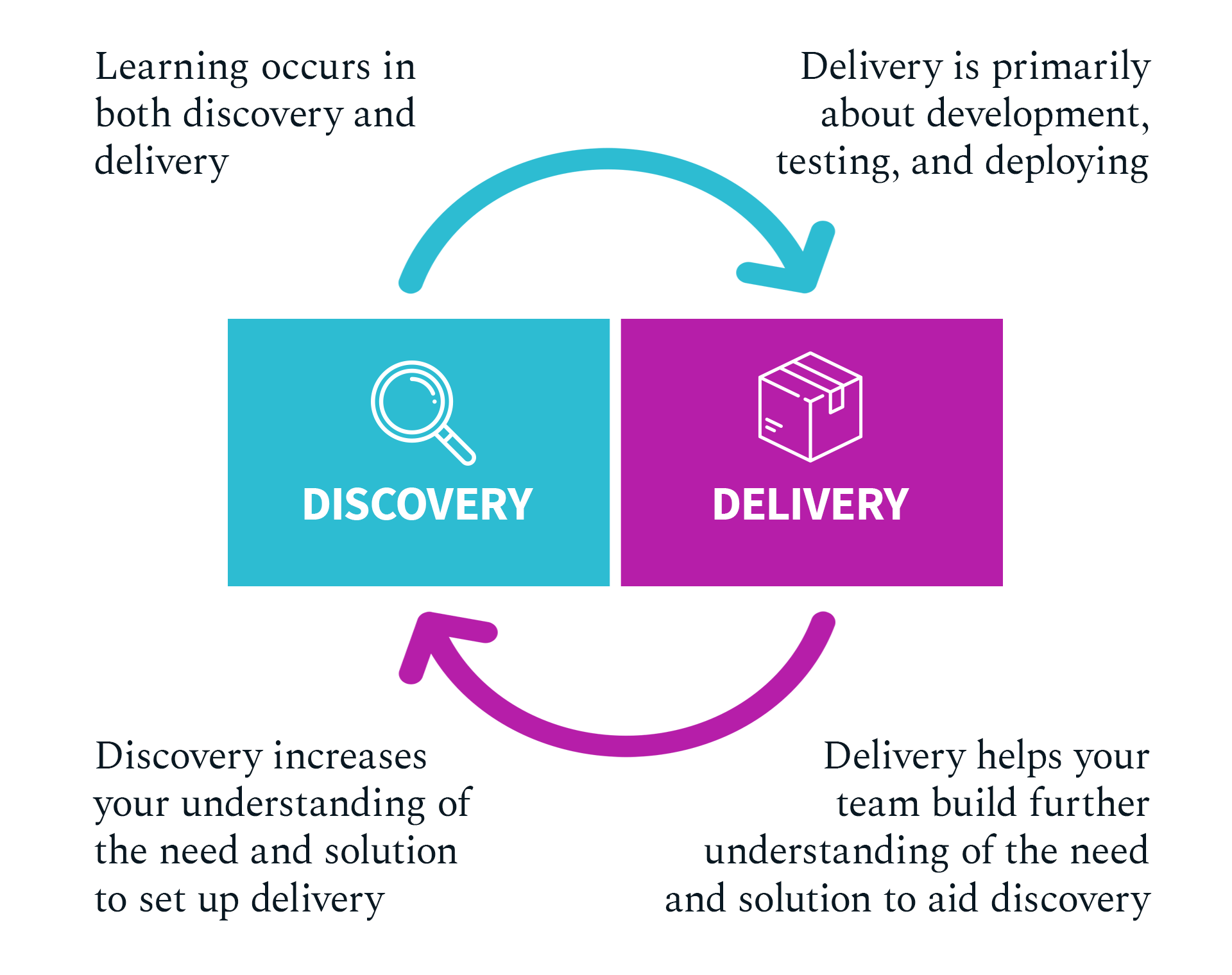 Assessing the need for fractional CPO
When assessing whether your organization could benefit from a fractional CPO, consider these key questions:
Is product strategy ownership unclear or fragmented across multiple leaders?
A fractional CPO provides a single strategic voice.


Is your product struggling to gain traction or deliver on business KPIs?
A fractional CPO can realign around strategic goals.


Is there a lack of high-level guidance on product vision and roadmap?
A fractional CPO brings an outside perspective.


Are silos preventing effective collaboration between product, tech, and other teams?
A fractional CPO can connect functions.


Does your organization lack internal bandwidth to focus on strategic product thinking?
A fractional CPO adds capacity.


Is there limited internal expertise in modern product management best practices?
A fractional CPO provides specialized capabilities.


Are you undertaking a major product expansion or transformation initiative?
A fractional CPO can spearhead execution.


Do your current product leaders lack experience scaling a product?
A fractional CPO provides proven scalability expertise.
If you answered "yes" to some of these questions, your organization may benefit from supplemental CPO-level leadership a fractional resource can provide.
Be sure to also evaluate potential drawbacks based on your specific context and needs. Performing an objective assessment is key to determining if fractional engagement makes sense.

Relationship with other executives
Forging strong working relationships with peer executives is critical for a CPO to align the organization around product strategy and vision. However, the nature of these interactions differs between full-time and fractional CPOs.
As an external strategic partner, a fractional CPO must quickly build connections and credibility with the leadership team. Without being fully embedded day-to-day, a fractional CPO needs to be more targeted and opportunistic in their collaboration.
Meanwhile, a full-time CPO has the advantage of consistent access and greater visibility into inter-departmental dynamics. They are able to cultivate relationships more gradually and exert influence through sustained participation in leadership routines.
Key working relationships a CPO should focus on include:
Relationship with CEO/Founders
Ensure product strategy aligns with overall company vision and growth goals. Provide an objective perspective on potential.
Collaborate on defining and tracking metrics tied to business objectives. Translate strategy into execution.
Communicate insights on market landscape, opportunities, and competitive threats. Advise on where to play and how to win.
Update on product team progress, obstacles, and support needed from the CEO to execute initiatives.
Relationship with CTO
Partner to build capabilities required to deliver product technology roadmap. Provide clarity on platform priorities.
Foster collaboration between product and technology functions. Promote shared ownership of outcomes.
Evaluate existing tech stack and architecture. Advise on improvements to support speed and scalability.
Ensure technical feasibility and implementation considerations inform product planning and priorities.
Relationship with CMO
Collaborate on brand messaging, positioning, and go-to-market strategy to support product direction.
Share customer insights that can inform marketing campaigns and content strategy.
Review performance metrics holistically across the customer journey to identify opportunities.

Hiring when you have an existing product vs. a new product
The focus areas and responsibilities of a fractional CPO will vary significantly depending on whether they are coming into an organization with an existing product already in market, versus being brought on to guide the development of a brand new product.
In both cases, the fractional CPO's leadership and expertise in aligning teams, maintaining a strategic perspective, and focusing energy on the highest priorities is extremely valuable. But their specific objectives and activities will need to be tailored based on whether the product is established or still being defined:
Existing Product
Audit existing product and strategy. Identify gaps, issues, and improvement opportunities.
Analyze usage data and customer feedback to pinpoint problems/pain points.
Assess technical architecture and infrastructure. Recommend enhancements for performance and scalability.
Evaluate team structure, roles, and processes to identify dysfunction. Establish best practices.
Set future vision and strategy for product evolution and growth. Maintain alignment with business goals.
Prioritize and sequence roadmap initiatives to optimize return on investment.
New Product
Lead discovery process to identify target users, use cases, and core value proposition.
Guide early prototyping and testing to validate product-market fit assumptions quickly.
Partner with CTO/engineering to evaluate technology approach and feasibility.
Spearhead business case, financial modeling, and launch planning.
Establish agile workflow between product, design and technology functions.
Define MVP feature set and product KPIs to focus team efforts on must-haves.

Working with a Digital Consultancy
Rather than hiring an individual fractional CPO, some companies choose to partner with a digital product consultancy, such as Emerge, to provide ongoing strategic leadership and expertise.
This model provides all the advantages of fractional CPO guidance, along with added benefits:
Access to a full team of experts across strategy, design, development, and growth
Ability to scale resources and capabilities up or down as needed
Complementary services like design sprints, product audits, and capability building
Full-lifecycle support from strategic vision through execution
Deep expertise across modern tech stack and platforms
Insights across a wide range of clients and verticals
Partnering with an experienced digital consultancy can provide the multi-disciplinary support required to deliver on product strategy, freeing up internal bandwidth.
The consultancy essentially serves as an extension of the client's team to provide fractional CPO perspective and project leadership. But with the added benefits of end-to-end product development capabilities.
This allows organizations to tap into C-level strategy guidance combined with the ability to scale execution quickly. The consultancy adapts to the cadence and level of engagement required as needs evolve.

Making the Shift to Full-Time
The fractional CPO model provides flexibility. For some companies, it is a permanent solution. But others may eventually need or want to transition to having a full-time CPO.
Signs it may be time for this shift include:
Product maturity and complexity has increased significantly
External expert oversight is less crucial
Need for dedicated leadership and full strategy ownership
Desire for CPO to build out their own internal team
Bandwidth needed has grown beyond part-time capacity
Here's how to plan for the transition:
Evaluate if your existing fractional CPO is the right fit for full-time role based on culture and capabilities.
If so, agree on a timeline for shift and expectations.
If not, begin the search for a new full-time CPO and give your fractional CPO notice. Consider retaining them as an advisor.
Announce the transition so your team understands reporting structure changes.
Document any contextual knowledge gained by fractional CPO for your new full-time CPO.
A fractional engagement can serve as an extended vetting process for a full-time role. The fractional CPO provides continuity to bridge the transition smoothly. This evolution enables continued focus on product and growth.

Accelerating Outcomes with a Fractional CPO
The importance of digital products in business continues to accelerate, so having a strong product strategy and leadership is critical. The fractional CPO model recognizes that the needs of an organization are not static.
The flexibility of on-demand, fractional engagement provides focused product guidance when it is most impactful. Without the overhead and longer commitment of traditional executive hiring approaches.
For organizations looking to drive strategic product growth and digital transformation, partnering with an experienced fractional CPO or a digital product consultancy can provide just the right dose of leadership for the next stage of the journey.
With the right strategic partner, a fractional engagement can have an outsized impact. Of course, the model does not fit every situation perfectly. But under the right circumstances, fractional leadership enables maintaining high velocity on product development and innovation when you need it most.
To learn more about the fractional CPO model and assess whether it could be a fit for your organization, reach out to our product strategy team at Emerge. The fractional approach may just be the competitive advantage you need to build resilient, adaptive products in times of complex change.