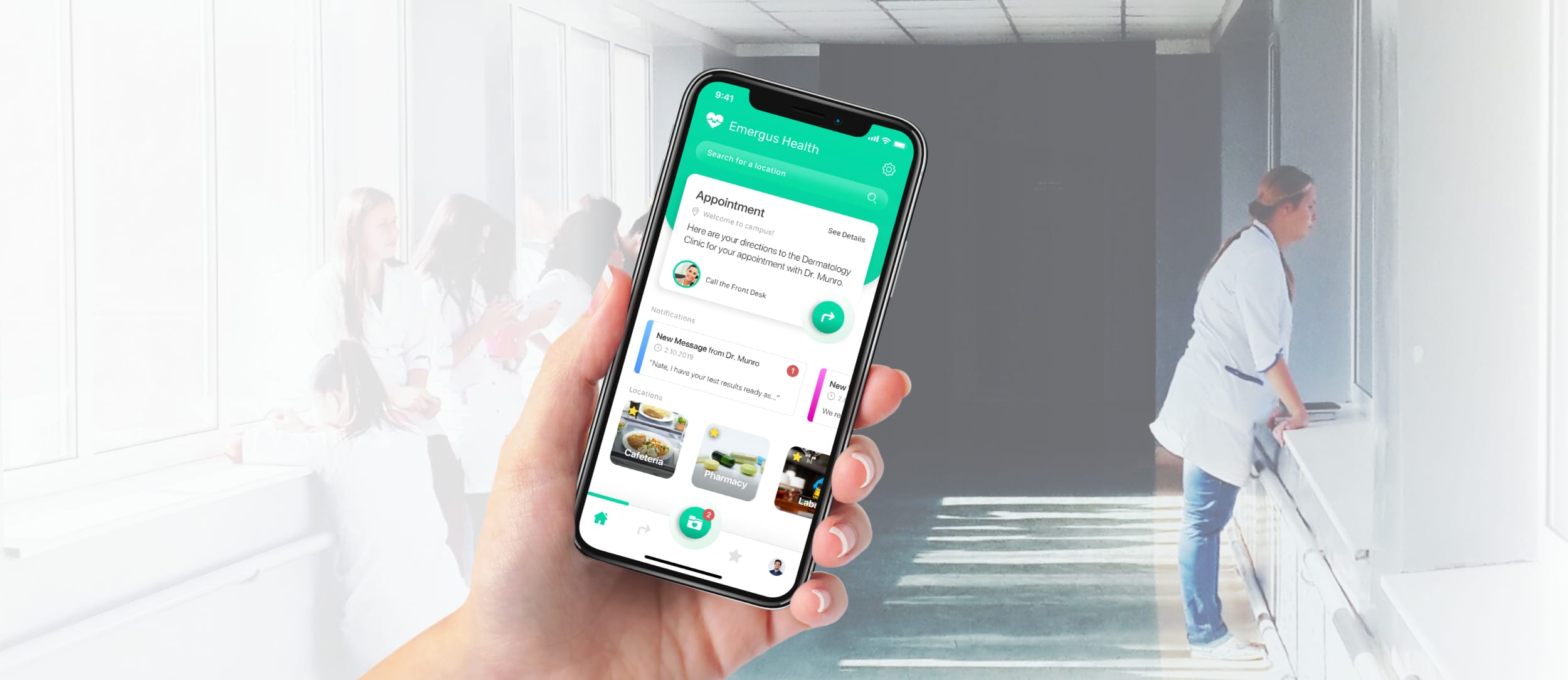 Patient Experience Mobile App Platform
Deliver real-time information, scheduling, telehealth, and EHR access all in one mobile application.
Mobile applications are currently one of the most underutilized and most powerful touch points for any hospital group or healthcare provider in the market — allowing your patients to navigate their entire experience within your healthcare system. From finding providers and scheduling appointments, to guided indoor hospital navigation, the Patient Experience Mobile App Platform provides a medical app for patients that makes their healthcare experience easier than ever.

As an organization, now more than ever it is mission-critical that your patients' mobile app experience also supports your mission. We can partner with you to help address immediate needs like:

Keep patients that are not seriously ill from inundating ERs and clinics. Saving urgent clinic and clinician resources for high-acuity patients.
Provide your medical offices and community key, up-to-date information.
Enable virtual appointments and direct patients to the appropriate care.
The biggest challenge to achieving this is cost, timing, and available expertise. We have a complete solution that can be deployed in a fraction of the time, and at only 25% of the average cost; providing a solution now with both immediate and long-term benefits and scale.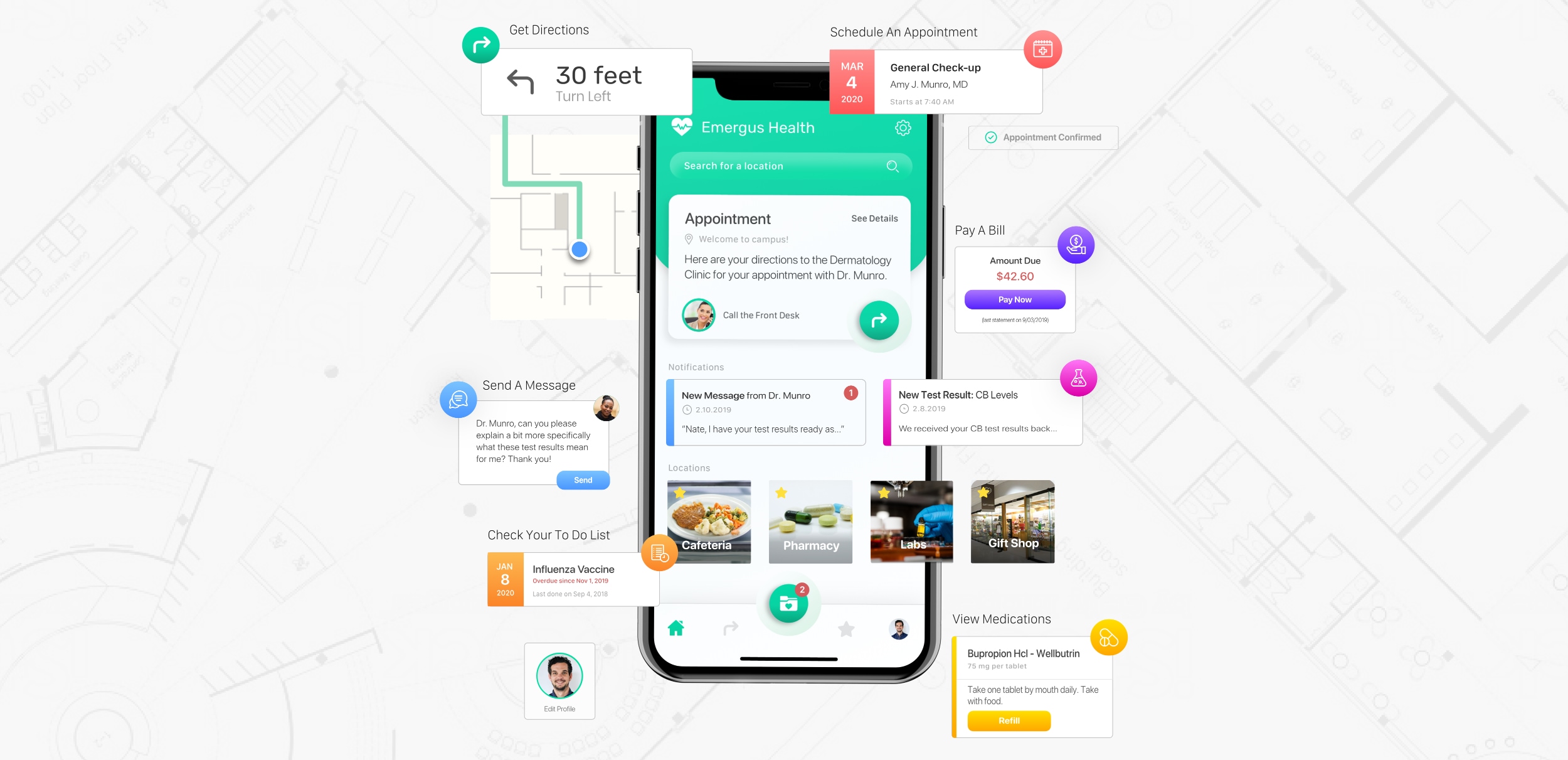 The Patient Experience Mobile App Platform also provides a turnkey solution for medical organizations looking to increase patient engagement, systems integration, regulation compliance, recruitment, and self-service enablement. The platform allows people across your organization to become better stewards in their daily work and to propel your mission forward.
The mobile platform can integrate with your Epic or Cerner EHR installation, which allows access to all your EHR has to offer at your patient's fingertips. They can easily schedule appointments at convenient times and effortlessly send a message to their doctor. Existing telehealth solutions can be cross-linked or integrated.
The mobile app is compatible with Real Time Location Systems (RTLS), such as Aruba Meridian. When beacons are deployed through your organization's infrastructure they communicate with the app through a combination of Bluetooth and WiFi to locate position and help with accurate hospital wayfinding. Your visitors can locate a department, patient room, or an amenity inside the hospital with turn-by-turn, guided navigation.
If your organization has multiple facilities, a single installation of the mobile app can seamlessly support all your locations.
Features of the patient experience mobile app platform include:
Schedule appointments and access the patient portal, direct messaging with providers, telemedicine, bill pay and more.
Help visitors and patients find directions to your organization quickly, easily, and seamlessly.
Find your way inside the building itself with turn-by-turn directions that complement an easy to understand map interface.
View test results securely within the app itself and easily follow up with your doctor for questions.
Emerge's Patient Experience Mobile App Platform introduces your patients and their families to a world-class app experience. It features simple and engaging educational tutorials and integrates seamlessly with onsite touch-screen kiosks. As part of the platform installation, Emerge provides a complete app adoption and deployment strategy tailored to your organization.
A little empathy for your customers goes a long way in providing true ROI for your organization:
Increase your patients' engagement and satisfaction
Increase your organization's potential cost savings
Decrease of late or missed appointments
Increased appeal to discretionary care consumers
Increase your organizational stewardship
Drop us a line.
Let's work together.