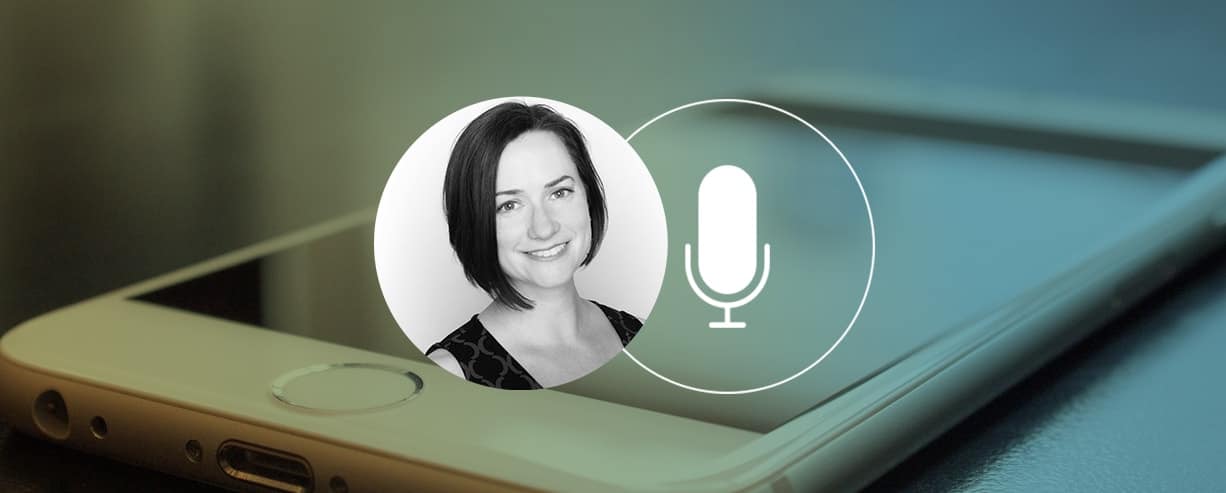 Interview with Ruby Receptionists w/ CTO Katharine Nester on the Mobile First Podcast
Podcast

/

Product Leadership

/

Product Management

/
---
Customer Experience and How Technology Can Expand the Reach of Real, Human Connections (Ep. 42)
It's no accident Katharine found her way to Ruby. Her career has focused on working for companies that value and support human connections, including roles in product management at Ancestry.com and AAA. Her desire to restore the human connection in our increasingly technological world comes with a top-notch pedigree, including a degree in Computer Science from UC Berkeley and an MBA from Oxford University. She brings the perfect combination of passion and experience to lead the evolution of Ruby's product and service.
How to get this week's and past podcast episodes:
The Mobile First podcast is available for free on iTunes where you can easily download it straight to your computer or mobile device. We encourage you to subscribe to the Mobile First podcast on iTunes so you won't miss an episode. If you are an Android user, you can also download the podcast for free through Stitcher. If you don't have access through iTunes or your phone, you can download the podcast here or listen straight from the player below:
Here are the highlights of our conversation with our guest:
Katharine has worked with technology for most of her career and is fascinated with the challenge of taking technology, which is usually a way of taking the human element out of processes and experiences, into something that we can use to smartly expand the reach of meaningful human connection as opposed to completely eliminating them.
Her passion for technology is has evolved from an early start in childhood, and has always been interested in computers and future tech. Her father, a computer engineer, always had the latest equipment at home. She followed that passion by taking Computer Science, then becoming a software engineer at Hewlett Packard. Now, he is keenly interested in how we can use technology to shape customer experience and broaden connections between people.
Katharine is keenly interested in the decision-making process inside organizations—which drove her to attain her Masters in Business Administration. During her stay at Oxford with students of different nationalities, she learned how to manage business at an international scale. Fascinated by observing trends in different countries, she sought to understand how technology is used in different countries. So much of this is driven by culture and for her, this was the turning point in discovering her passion for understanding how factors such as people and the culture impact how systems, technologies, products, and services are being developed.
Ruby Receptionists is a remote service which provides personalized live, virtual receptionist services to thousands of small businesses throughout North America including Canada and a few in Puerto Rico. As these are real people answer the phones, this allows them to make great impressions and allow these small businesses never to miss a call. Their data show that 60% – 70% of callers hang up if they get a voicemail greeting or not get a live person or having a human being pick up the phone really helps businesses grow and capture these opportunities.
The secret to their success boils down to hiring the right people for the job. What their co-founder quickly learned: the culture where your employees work has a direct impact on how they deliver service to their customers. Due to this, they have a line of recognition programs and activities designed to ensure that this motivation is maintained by putting them in an environment where happiness is fostered and where they are encouraged to grow and thrive.
Ruby has grown from 200 employees to 400+ in the last two years and some the challenges that they are facing right now are those things which actually worked for them when they were smaller. Some of their processes are no longer scaling and are getting brittle so their focus for their organization this year and the next is upgrading their systems and figuring out how to integrate them.
Ruby launched a mobile app but it did not deliver the desired outcome and went defunct. As an industry leader, Ruby's primary focus is to improve customer-facing applications and create a seamless experience. They are also completely re-architecting their back end such as moving things to the cloud. Kath believes that with the new customer-facing website plus the new mobile app, they can really go deep on the customer journey and will see how pieces interact with each other to allow them to deliver more value.
Rapid Fire Questions
What is your definition of innovation?
I see innovation as using different perspectives to find a solution to a problem or need and being able to see an opportunity in a problem or need that others have.
Would you put more emphasis on the idea or the execution? How would you weigh each of them and why?
Innovation happens in the execution of the idea so I would put more weight in the execution than just with the idea. Sometimes, mundane ideas can become innovative in the way you execute them. 40% idea and 60% execution.
What is your biggest learning lesson on your journey so far?
That you are going to make mistakes and how successful you are depends on your attitude towards those mistakes. Do you should see them as opportunities to learn, grow and get better? Or do you see them as something to be ashamed or embarrassed of? You should be willing to embrace them and learn from them.
What is your favorite business book?
The Undoing Project by Michael Lewis
Switch by Chip Heath
What is your favorite digital resource?
Mind the Product
Twitter
What is your favorite app and why?
Starbucks
The Garmin App