Announcing the EmergePunks NFT Collection: 999 Adorable Emerge Logos
---
No matter if you are NFT-curious or already have your own collection of Bored Apes and Pudgy Penguins, you now have a chance to mint your very own EmergePunk! We are launching this project for fun and to share the joy of owning NFTs with our friends, family, and clients.
👉🏼 Mint your very own EmergePunk 👈🏼
Unlike most other NFT projects, we are giving away our NFTs for free. Who knows, they might be worth something in the future, so hold on to yours tightly!
If you've never interacted with a blockchain before, we are making it easy for you. Head over to our NFT page, where we will walk you through setting up your first wallet and even provide you with free MATIC tokens to mint your first EmergePunk.
Curious what EmergePunks others have minted? Take a look at the EmergePunk collection on OpenSea.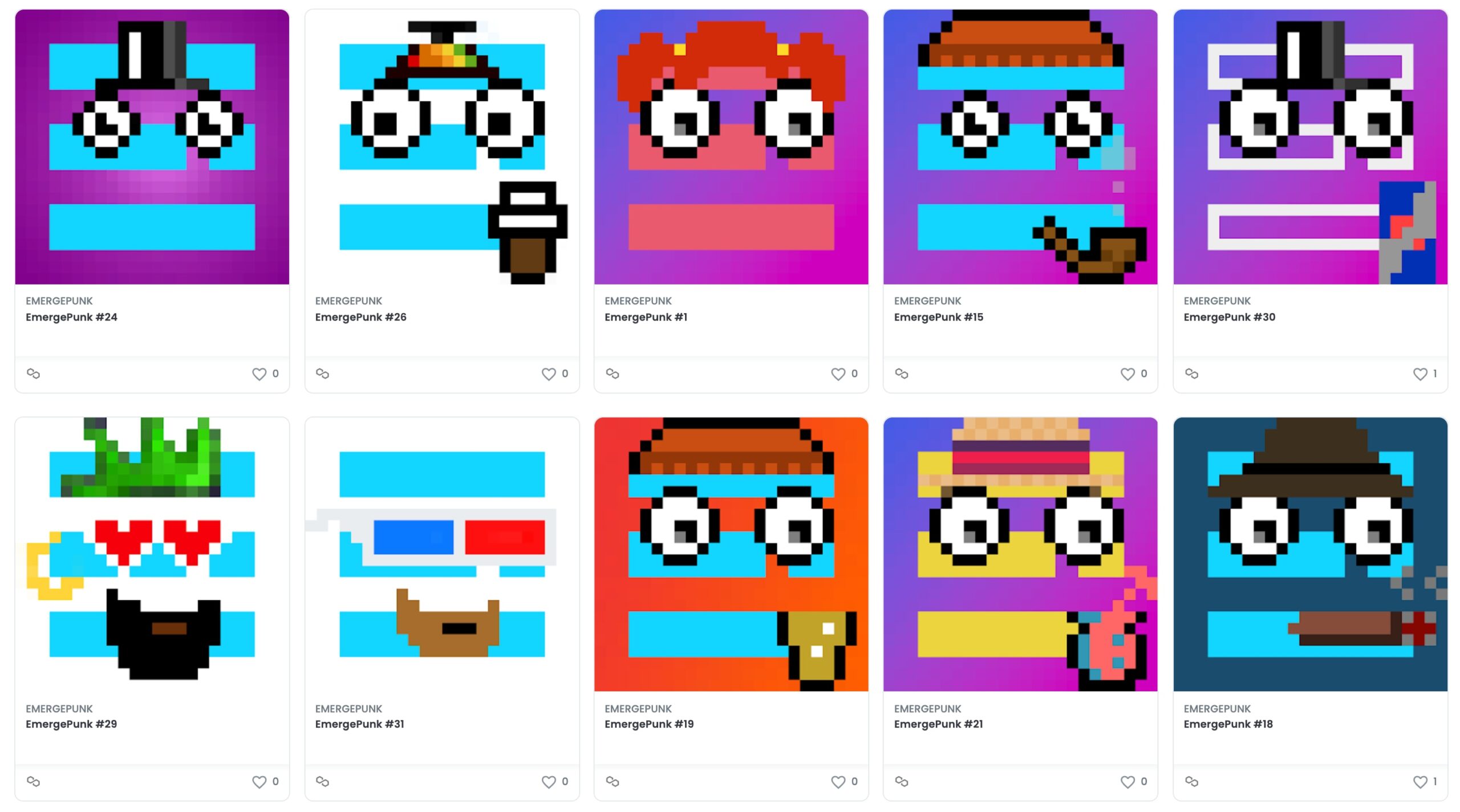 But wait, what are EmergePunks?
EmergePunks is a collection of 999 adorable Emerge logos with different traits. Each EmergePunk is unique and algorithmically generated from over 60 possible traits, such as headwear, eye wear, ornaments, and more. All EmergePunks are eccentric, but some are more exotic and legendary than others.
The rarity of a particular EmergePunk is determined by the different traits. There are 6 different types of EmergePunks with distinct traits grouped under 5 rarity categories: Exotic, Legendary, Rare, Uncommon, and Common.
EmergePunks are stored as ERC-721 tokens (NFTs) on the Polygon blockchain and their metadata is hosted on IPFS. Minting an unique EmergePunk is virtually free; all you have to pay is the gas fee for the transaction on Polygon (which we provide from our faucet). Once you mint an EmergePunk, it is yours forever (unless you sell it).
If you are concerned about the environmental impact of NFTs we have good news for you. EmergePunks live on the Polygon blockchain, which is an environmentally friendly proof-of-stake network that doesn't rely on large energy-sucking crypto mining operations. So go ahead and mint an EmergePunk for your NFT collection!