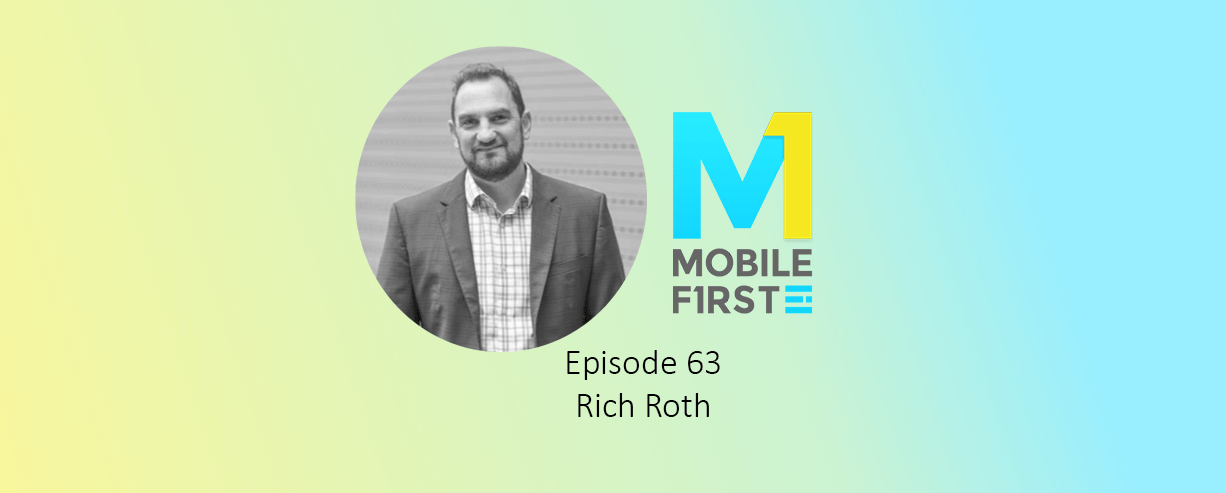 Our Interview with Dignity Health Chief Strategic Innovation Officer, Rich Roth, on the M1 Podcast (Ep. 63)
Podcast

/

Product Definition

/

Product Leadership

/

Product Led Growth

/
---
Mobile First Podcast Episode 63
One of the most important innovations in healthcare? That it actually works.

Rich Roth, Chief Strategic Innovation Officer at Dignity Health
Mr. Roth leads Dignity Health's innovation efforts, which seek to create and test novel services, programs, partnerships, and/or technologies from within and outside of healthcare- that challenge the status quo and have the potential to reduce the cost of care, improve quality, and/or increase access to services.
Working in concert with Dignity Health employees and physicians, Mr. Roth works to anticipate emerging trends and technologies with the goal of incubating, studying, and scaling efforts to improve care.
Mr. Roth holds a Masters degree in Healthcare Administration from the University of Minnesota and a Bachelors degree in Public Health from West Chester University.
Mr. Roth regularly advises venture capital organizations and co-manages Dignity Healths Strategic Investment Fund.
How to get this week's and past podcast episodes:
The Mobile First podcast is available for free on iTunes where you can easily download it straight to your computer or mobile device. We encourage you to subscribe to the Mobile First podcast on iTunes so you won't miss an episode. If you are an Android user, you can also download the podcast for free through Stitcher. If you don't have access through iTunes or your phone, you can download the podcast here or listen straight from the player below:
Key Insights from our Conversation:
Rich's job is all about partnership so he figures out how to bring amazing medical practitioners and entrepreneurs together to expand access to everyone so healthcare becomes part of everyone's workflow. This sense of partnership and his passion for efficiency was fueled when he realized that there were so many different points of friction in the system and it is the patient who is suffering. Rich wants to blend these two worlds together to push from quality and alignment.
Dignity Health is a non-profit health care system which makes up of hospitals, physicians, medical groups, imaging centers, surgery centers, etc. whose goal is to care for the health and the wellness of the community. They are in rural, urban and areas of extreme need and their mission calls to care for everyone in the community so it is not a member-only organization. They are moving towards more prevention-focus and Rich shares that it is an exciting organization to be in if you want to make a change.
Dignity Health sees asthma as a very serious condition as it is debilitating and can lead to death. They recognize that with the right medication and with the right lifestyle changes, this can be prevented. Currently, they see that inhalers play a big part but we can only see how it affects the patient when they are confined within the facility. They came up with an internet-connected inhaler for them to know the where, the when and the how often the patient uses the inhaler to be able to study and understand data. They were able to come up with interventions based on this clinical data provided from the inhaler and consider this as a great example of health care at its best.
They had encountered tons of challenges including connectivity, Wi-Fi, and educating people but the key is aligning partnerships between technology, organization and systems; and being committed to work on the challenges you face. Things will pop up in ways that you don't expect them to so you have to have a good culture between you and the partner, you have to have trust, and you have to have patience to be able to work through issues.
Setting a great culture starts from the top so it helps to have leadership which has a culture for experimentation and learning how to fail fast. The teams that you pick internally are also really important. It varies from issue to issue and geography to geography but the first teams you pick are deeply critical.
Rich believes that there are different philosophies of innovation and for their organization, they have developed a process called Run, Run, Jump. It was mirrored after kid's swimming lessons and directed towards having the space to move in and experiment. They do their first run and if it's successful, they move to the second one and mix up something fundamental. If it works on both runs, then they do Jump, which is their scaling mechanism. This is where they have things work to impact communities at scale.