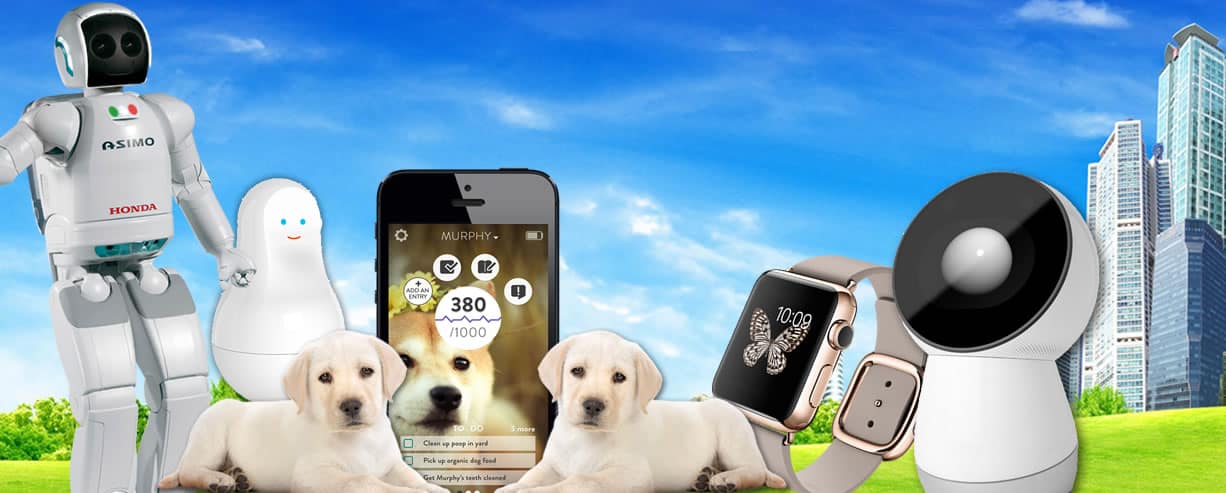 Digital Trends to Look Out for in 2015
---
The increase of data driven experiences and ubiquitous technology
We take a look at how in 2015 robots will invade our homes, our devices will become smarter than us, pets will start collecting data, and your average consumer goods company transforms itself.
Social Robotics has Arrived
For years we've seen clips of obscure Japanese humanoid robots awkwardly walking around stages, but so far these robots have only lived at the intersection of distant SciFi dreams and experimental research. At last though, there is promise of progress.
We were recently introduced to OSHbot, the first social robot to promise shoppers customer support around select Lowe's stores. While the success of this specific robot is going to have to be judged over the coming months, it does ring in the mainstream acceptance of social robotics. One of the most anticipated social robots has been JIBO, which is due to release in late 2015. This cute home robot is a stationary helper to your everyday household life, from managing your communications, to taking family photos, to keeping your children company by reading them stories. There are many factors that will impact the success of this project, such as how well the speech recognition will really work, as voice controls are the primary way to interact with JIBO. Privacy concerns are also moving into the mainstream, in particular as internet connected security cameras continue to be a target for hackers.
JIBO might be to social robotics what the Pebble was to smart watches, and given the momentum marked by the arrival of several mainstream robotics products, I believe 2015 is the year society will accept robots not only as helpers in stores, but also as assistants in their homes.
Connected Products are for Real
2014 was the year that Internet-of-Things (IoT) became the hottest buzzword in the industry. 2015 will be the year that your everyday consumer will actually start to understand just what all this hubbub is about. IoT consumer devices are graduating from Kickstarter into the mainstream. And we've come a long way since the first internet-enabled fridges enhanced the kitchens of a few brave early adopters.
While there are some startling predictions out there, such as 26 billion IoT devices being online by 2020, it's harder to quantify how the average consumer plans on adopting them. According to Acquity Group's IoT Study, thirty percent of consumers already own or plan to purchase an in-home IoT device in the next two years, which can include smart thermostats, self-driving vacuum cleaners and smart refrigerators. And close to two-thirds of consumers are looking to buy a connected in-home device in the next 5 years.
The early winners in the home device category are already emerging: devices that manage all your other IoT devices. With so many different manufacturers and protocols, managing all your devices can be overwhelming. That's where product such as SmartThings come into play. They provide one user friendly interface to manage hundreds of devices by other manufacturers.
Developers are also creating their own sensor ecosystems that perform a myriad of functions and can provide insights into what we do on a daily basis. An example of such a system is the Sen.se Mother, which controls its own network of sensors that capture motion, temperature and proximity. At this point Sen.se provides its own real-time reports based on the incoming data, but the industry trend is to share data across devices and applications. The combination of collecting unprecedented amounts of data about our daily lives and increasing home automation through IoT devices unlocks possibilities that we are used to only seeing in science fiction movies. Picture your home thermostat automatically adjusting the temperature of your home based on your activity level (home aerobics, anyone?), or your coffee machine firing up earlier than usual because your sleep tracker reported that you woke up earlier and your calendar shows an early meeting that day.
The Rise of Quantified Pets
As ridiculous as this may sound to some, pet owners that have been enjoying collecting data about themselves using trackers such as Fitbit and UP are now discovering the same joy for their pets. While there certainly is merit to tracking the activity level of your pet for health reasons, these pet trackers allow a new level of emotional connection between pets and their owners. While animals can't talk, their data can speak volumes! By early 2015 you should be able to chose between Voyce, Whistle and FitBark as Fido's activity tracker of choice.
Of course any data collection device is only as useful as the tools to analyze all the data, and companies are in a race to provide the most robust analysis to pet owners and veterinarians. Expect tools to teach you how to keep your pet healthier, provide you with relevant expert advice, and check in to make sure your husband actually walked the dog when he promised he would.
Your average CPG brand is reinventing itself as a technology company
If the developments listed so far in this post sound unnerving to you, they are downright terrifying to your average consumer packaged goods (CPG) company. Over the last 5 years, we have watched many industries become borderline obsolete as digital technology changed their playing field at a breakneck pace. Think of brick and mortar retail being replaced by online stores; cable TV being replaced by streaming services; taxi cabs being replaced by freelance drivers hailed via mobile apps.
As digital technology infiltrates our home life more and more, CPG companies are starting to realize that they need to evolve, or they might be outpaced the same way the record industry was left behind and is now struggling to find their role in the new economy.
Some apparel and fitness companies have been taking aggressive steps to tackle the digital evolution head on. Nike was one of the first companies to bridge the gap with their Nike+ platform, which provided runners with one of the earliest methods to track and socialize their running activity. Nike also entered the hardware game with the FuelBand, only to realize that they veered too far from their core competency and have since scratched that product only to focus more on software and rely on their hardware partnership with the producer of the world's most popular biometrics device, Apple's iPhone (and soon Apple Watch).
Another apparel company is taking similar steps. One year ago Under Armor decided to jumpstart their digital ecosystem by purchasing the digital fitness platform MapMyFitness, which has over 700,000 daily users. With that acquisition Under Armor gains access to fitness data from 30 million registered users as well as the ability to market to these athletes as they make the MapMyFitness platform part of their workout regimen. In an effort to generate further inbound innovation, they also focused their annual Future Show Innovation Challenge on the MapMyFitness platform API, challenging inventors to find the most innovative ways to combine fitness gear and athletic data.
More traditional CPG companies are getting on board as well. Some companies are dedicating a majority of their discretionary technology budgets to the development of innovation portfolios that focus on making them leaders in the digital technology space. They do this while creating a process for tracking payoff from their investments, making them de jure venture capital investors. While many projects might not pan out, those that do can be scaled up and rolled out company wide.
At Emerge, we are excited to help our clients and partners leverage these new emerging technologies to build closer connections to their customers. The way people interact with the world around them is changing. These new digital technologies offer new value and experiences to people—from understanding more about their health to making critical decisions. These new innovations provide users real value, not just more information.
Today we're working with clients to plan and manage their innovation portfolios and technology roadmaps, while executing initiatives and building digital ecosystems to create this value. If your business is ready to tackle the digital innovation challenge, reach out to us to discuss how Emerge can help lead your evolution.